What they said .. the weekend in quotes
September 11, 2017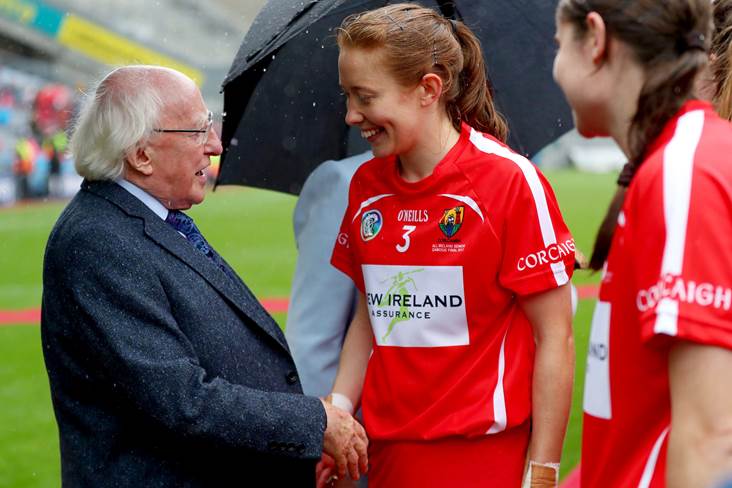 President Michael D Higgins meets Cork captain Rena Buckley before the All-Ireland senior camogie final clash against Kilkenny at Croke Park.
©INPHO/James Crombie.
"I was just thinking, 'find a step or so and just get it over the bar'. I wasn't really thinking. I was just going on instinct. It was the best feeling in the world. I couldn't believe it. I was trying to get back again then because (the referee) didn't look like he was going to blow it up any time soon."
Cork match winner Julia White reflects on that point.
"I never imagined it, I don't know how you'd describe it but it's been a fantastic period in my life. I don't hail from a massive GAA house."
Rebel County dual star Rena Buckley won a remarkable 18th All-Ireland medal at GAA headquarters yesterday.
"We're bitterly disappointed, no point in saying anything else. We probably didn't turn up in the first 20 minutes. I don't know why but, in fairness, the girls died with their boots on in the second half."
Defeated Kilkenny manager Ann Downey was proud of the manner in which her players fought until the very end.
"It is great for the lads, hopefully they will keep their feet on the ground, keep their heads right because they can go on to perform for Limerick seniors in the future."
Limerick are celebrating a second All-Ireland U21 HC success in three years and victorious boss Pat Donnelly hopes his players can make a big impact at senior level in the years ahead.
"The hungrier team won out, and that was it. Limerick had an energy about them today and they chased down everything. They left nothing on the field."
Donnelly's Kilkenny counterpart Eddie Brennan took his hat off to the Shannonsiders.
"Why wouldn't you be smiling after winning the All-Ireland! Training all year for it, it's just the best feeling ever."
All the hard work paid off for 'man-of-the-match' Aaron Gillane and his Limerick team-mates.
"We haven't won this competition for four or five years. I suppose there was pressure on us to win the Richie McElligott Cup but, look it, at the end of the day we're delighted. Conditions possibly didn't help a free flowing game but we're just delighted to get over the line."
Ian Brick guided Kerry to All-Ireland U21 B glory.
"The Dubs are brilliant at it. They don't concern themselves with anything other than the game. They plunge themselves in at the throw-in and they play to the finish, no matter what the score is. Like any team that goes on to win an All-Ireland, the important thing is you don't blink."
Joe Brolly has a word of advice for Mayo ahead of Sunday's eagerly anticipated Sam Maguire Cup decider.
"We've been able to have games week in, week out which is fantastic. As a player that's all you want to do, you want to play in Croke Park in as many big games as possible a year and to date that's something special and something magic for us to have that opportunity, to have so many games this year."
Games don't come any bigger than the All-Ireland SFC final and Mayo midfielder Tom Parsons is counting down the hours.
"From our last survey, 95% of our members wanted us to escalate what we were doing, put more pressure on to get something done. That's what we are doing and we are consulting with them to plan our way forward. We feel this Special Congress, from a club perspective is a non-event. It goes way short and it's actually pathetic to the point that there is nothing done."
The Club Players Association are not happy about how the club fixtures conundrum is being handled and secretary Declan Brennan warned they will make their voice heard in the future.
Most Read Stories