Rugby season concluding with immediate effect could be a sign of things to come
March 20, 2020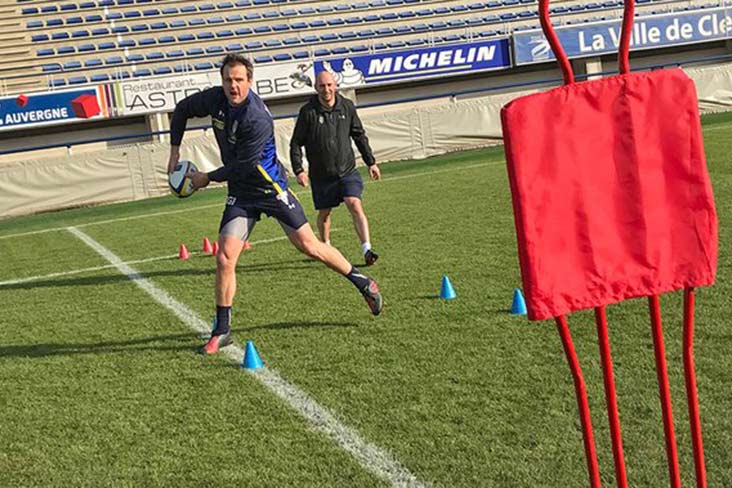 Donegal star Michael Murphy gets familiar with the rugby ball at Clermont Auvergne
The Irish Rugby Football Union have announced that their domestic rugby season is ending with immediate effect and no further games will be played in the 2019/2020 season.
The news will not have gone unnoticed by GAA authories, players and fans.
The Energia All-Ireland leagues are mostly four games away from concluding the 18 game divisional stages before the knockout finals. The IRFU have said their will be no league winners, promotion or relegation this season, and where cup competitions are at finals stage the cup will be shared or if not at final then will not be played.
While there are still hopes that the GAA senior football and hurling championships could be played later this year, there are huge doubts over whether the Allianz leagues for 2020 will resume. Following the lead of the IRFU and announcing the competiton concluded with no winners, promotion or relegation is an option for the GAA.
Speaking about the announcement, IRFU Director of Rugby Development Colin McEntee said: "The decision to end the domestic rugby season for 2019/2020 season has not been made lightly. All options were discussed and the IRFU is satisfied it has arrived at the only equitable solution.
"These are challenging times for us all and we know clubs will be impacted by this directive, but we will look back at this season as one where we put the physical welfare of our rugby community above all else.
"Clubs are now in a position to make plans for the 2020/21 season. We look forward to marking the 30th anniversary of the All-Ireland League."
Most Read Stories