Kerry All-Ireland MFC winner Uosis impresses at AFL Combine
December 09, 2019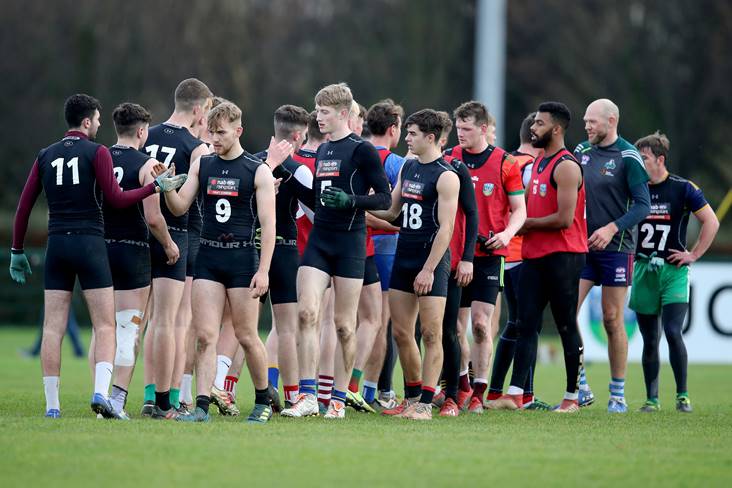 Players shake hands after the AFL combine match in UCD. ©INPHO/Bryan Keane.
The AFL's now annual European Combine was held on Friday and Saturday at the UCD Campus.
Kerry's 2017 All-Ireland MFC winning goalkeeper Deividas Uosis was among those to impress which could spell bad news for the Kingdom who have lost Uosis' fellow Dingle man Mark O'Connor and Stefan Okunbor to Aussie Rules in recent years.
The AFL's official website reports that the Lithuanian-born Uosis clocked 2.76 seconds in the 20m sprint, was fourth in the agility test and also fared strongly in the endurance test.
Mayo pair Matthew Ruane and Oisín Mullin were among the 20-strong group of AFL hopefuls who took part.
AFL talent ambassador Kevin Sheehan said: "Today we have the game sense and match play (after testing the previous day), but they're elite athletes and as good as what we have in Australia.
"You don't jump to conclusions based just on someone's speed time, but it does suit that they can break the lines and we are after fast athletes.
"It's inspiring to be in this environment. The kids want to give it their best, alongside like-minded guys from all over the country who have played against each other but never met.
"They're on a path that's quite uncertain but exciting."
Most Read Stories