Gavin hails 'massive' Dublin support
June 10, 2019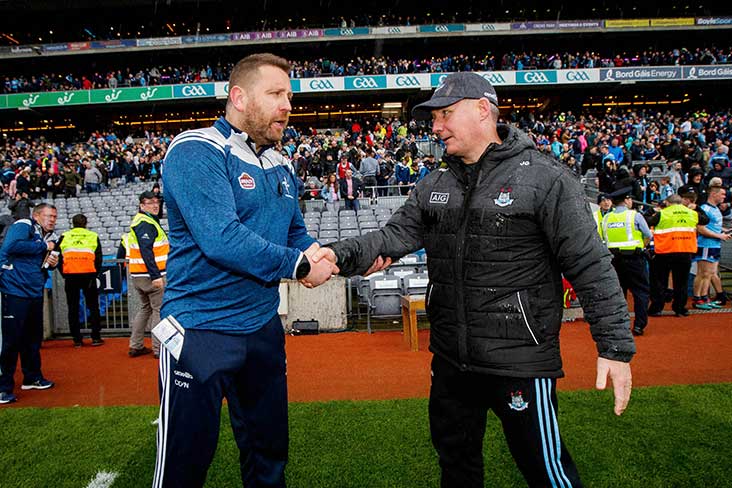 Kildare manager Cian O'Neill with Dublin manager Jim Gavin
Jim Gavin was full of praise for the Dublin supporters who made up the bulk of the crowd at yesterday's Leinster SFC semi-final double-header.
Just 36,126 spectators passed through the Croke Park turnstiles, but Gavin was nevertheless pleased with the support his side received.
"I thought from what I could hear in the game, in the breaks in play, there was a massive Dublin support there," he said after the All-Ireland champions' facile victory over Kildare.
"They were very vocal, very loud and we've been very fortunate over the last number of years to have a dedicated support base that travel the length and breadth of the country with us.
"In the game, I didn't hear (the attedance figure) on the tannoy, and if you ask me what the attendance was here today compared to last year, I wouldn't be able to tell you, to be honest, and that's not being flippant about it. So from my perspective, I'm really happy with the Dublin support that have followed us, that's all I can say on that."
Reflecting on Dublin's display, which sets up a Leinster final meeting with Meath in two weeks' time, Gavin said: "There would be aspects of that performance that we'd be satisfied with.
"We do a lot of work on the training field practising the skills of the game, and that traditional, open Dublin style of football, an attacking based style of football. There were some very good scores from open play which was great to see.
"Interspersed with some loose passages, the ball not going to the Dublin man, that wouldn't be good enough for the next game. But I suppose from our perspective, it was a Leinster semi-final, we wanted to get into the game to get into a final and have another opportunity to represent Dublin, and that's what we've got."
Most Read Stories