O'Connor to get new Geelong contract, Connellan chasing new club
May 23, 2019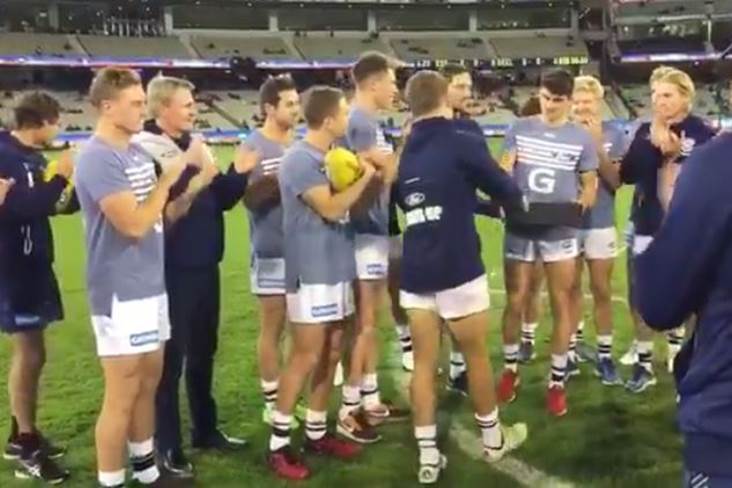 Zach Tuohy presents a gift to Mark O'Connor to mark the Kerry man's AFL debut.
by Daragh Ó Conchúir
Kerry youngster, Mark O'Connor is on the verge of signing a new multi-year contract with AFL table-toppers Geelong as a result of his brilliant start to the campaign.
The 22-year-old from Dingle has been an ever-present for the Cats in his breakthrough season, and will continue that record on the trip to the Gold Coast to play Pearce Hanley's Suns tomorrow in round 10.
A dual All-Ireland-winning minor with the Kingdom under the tutelage of current senior boss Peter Keane, O'Connor played seven games in his first two seasons with Geelong and was given a one-year extension to bring him through to the end of 2019.
Entering the mid-way point of the year, with a raft a strong performances behind him, he has done enough to earn a longer-term deal, which he is expected to sign in the coming weeks.
"He's still got some improvement left in him, but he does one or two things every week that take us by surprise to an extent" said head coach, Chris Scott after O'Connor excelled in Geelong's round six victory over West Coast Eagles.
"It shouldn't really because we picked him early on in the year on the basis that he was clearly in our best team.
"We had confidence in him, but he's really outperformed, especially in the last couple of weeks."
Meanwhile, former Westmeath forward Ray Connellan is hoping to pick up a senior contract in Monday's mid-season draft, after taking part in a medical screening on Wednesday.
Connellan spent two years with St Kilda but was released without playing a game at the end of last season.
He was given a chance to remain in Australia by Essendon's second-tier squad, which competes in the VFL, and has impressed in a number of outings.
He is understood to have been interviewed by Brisbane, though the Lions don't have a vacancy on their list unless a player picks up a serious injury this weekend.
Most Read Stories