Comment: perhaps football and hurling should be pitched separated for TV rights
May 16, 2019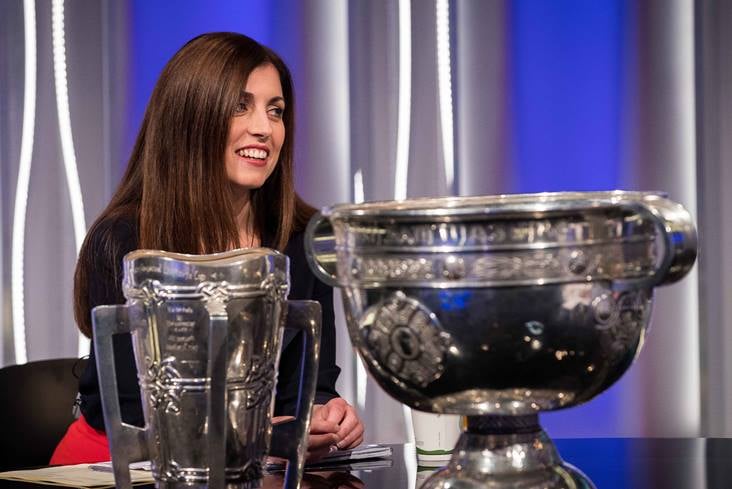 RTE's Joanne Cantwell during The Sunday Game's 2018 Championship Draw
The natural inclination to broadcast more live hurling championship matches has left many football fans disgruntled.
When RTE recently revealed its schedule of live GAA coverage for the summer, the shift towards hurling was impossible to ignore. Of the 31 games being shown live this season, up to 17 of them will be hurling, but there are a lot of traditional football counties who would prefer to look at a game of football, regardless of the quality compared to the small ball game.
There's no denying that generally speaking hurling is a better commodity right now. Last year's hurling championship was nothing short of sensational from start to finish. The new-look round-robin provincial championships went down a treat and armchair viewers were served up unbelievable entertainment all through the summer.
This year, ten of the first eleven matches being broadcast by RTE are hurling, the likely Ulster SFC meeting of Tyrone and Donegal the only exception. Indeed, outside of the four finals, that is the only provincial football fixture being shown by the state broadcaster.
In contrast, viewers will be treated to no fewer than nine Munster senior hurling clashes and three from Leinster.
Towards the latter stages of the championship, as a top-heavy football competition hopefully comes into its own, we'll see some Super 8s action as well as the semi-finals and finals of both competitions.
July 14th is particularly interesting as RTE is showing two games – they're going to wait and see what the line-ups are before deciding between football quarter-finals or hurling quarter-finals. Hard to imagine the hurling being overlooked!
While championship hurling is fantastic, most counties in Ireland still have football as their No.1 sport so it follows that perhaps considerably more than 50% of the population would prefer to watch football. TV licence payers in Roscommon, Donegal. Kildare or Kerry – to randomly name just one football-prioritising county in each province – might have little or no interest in the Munster hurling championship.
Remember, there are only ten counties taking part in the senior hurling championship this year (plus the Joe McDonagh Cup finalists), while a whopping 31 counties (plus London and New York) congregated at the starting line in the race for the Sam Maguire Cup.
Although they both come under the GAA umbrella, football and hurling are essentially different games, and the support bases do not necessarily overlap. When broadcasting rights are being agreed, perhaps it would be better to treat them separately.
RTE are showing 31 championship games this year and Sky 20 (six of them shared between the two platforms), with both codes thrown in together. The balance is normally good but, theoretically, either broadcaster could opt to focus substantially more on one code at the expense of the other. In contast to RTE, Sky have leaned massively towards football, selecting to air twice as many football matches as hurling.
Thus, instead of having a TV rights package comprising both, should football and hurling be pitched separately so that the allocation of games better suits the demographics of the country as a whole?
Most Read Stories