What they said … the football weekend in quotes
May 13, 2019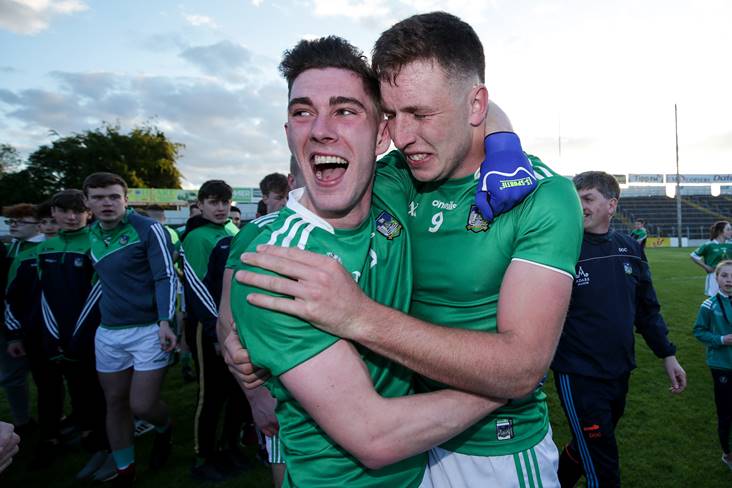 Limerick's Paul Maher and Tommie Childs celebrate after the Munster SFC quarter-final victory over Tipperary at Semple Stadium, Thurles. ©INPHO/Laszlo Geczo.
"It's a great victory, we are delighted with it. We will keep our feet on the ground, take on Cork, but I will look beyond that. We can't just take this as the pinnacle of it."
After masterminding Tipperary's downfall, Limerick boss Billy Lee turned his attention to a Munster SFC last four clash with the Rebel County.
"I still have a lot of faith in that panel. But certainly, we've taken steps backwards in the last two years. We can either lie down now or get up and fight."
It's the qualifiers now for Liam Sheedy and the Premier County.
"We're just glad to get through that."
Kildare secured a quarter-final date with Longford but Cian O'Neill's charges endured a nervy finish against Wicklow.
"I'm very proud of the lads, the way they battled. The belief is coming back into Wicklow football."
John Evans couldn't have asked for more from his Garden County players.
"If you're slightly off, you're going to get punished. And I'm not sure we're good enough to be slightly off."
Relief was the over-riding emotion for Andy McEntee and the Royals when the final whistle was sounded in their Leinster SFC tussle with Offaly.
"I think we had everything but the result. I was very, very proud of the performance."
It was very much a case of so near and yet so far for Faithful County boss John Maughan.
"If you were looking at our point taking and shot selection in the first half it wasn't at the standard. It's something we have to get better at."
Despite their 14-point winning margin against Leitrim, Anthony Cunningham identified room for improvement ahead of their penultimate stage clash with Mayo.
"At the start of the year they were a Division One team and we were a Division Four and you saw that difference. You don't change that in four or five months."
Leitrim's Terry Hyland admitted there was a gulf in class between the two teams.
"If anyone is telling me that watches that video that that wasn't a foul on John Tubritt 14 yards out to put us three points up with five to go…"
Wexford boss Paul McLoughlin lamented referee Derek O'Mahoney's failure to award them a free when their game with Louth was in the melting pot.
"I don't see a downside. You could look at it that way, but there's no point in thinking negative 'oh we are going to get a hammering here'. I guarantee you no matter what way that goes we are going to learn something. Our young lads will learn, the older lads will learn. I'm an inexperienced manager so I'm going to learn, so I don't see any negativity about it at all."
Five-in-a-row chasing Dublin are next up for the Wee County and their manager Wayne Kierans.
"We needed to keep the scoreboard ticking over, but we didn't. We missed a lot of chances. Listen, I'd rather be in our position than Tipperary's position."
Clare fell over the finishing line with a point to spare over Waterford and manager Colm Collins focused on the positive after the final whistle.
"It was the errors in the first-half that cost us. Everyone in there knows we didn't do ourselves justice in the first-half. Then it becomes very much an uphill task."
Collins' Waterford counterpart Benji Whelan was left to regret their slow start to the Cusack Park contest.
"We knew we had good people on the bench and who could get a good impact on the game. Darren McCurry has been champing at the bit this last while and we knew he was full of energy, ready to come into this game. And he is a good finisher as well."
Substitute Darren McCurry was singled out for special praise by Michael Harte following Tyrone's hard-earned win over Derry.
"We can't ask for any more from the boys — we went toe to toe with Tyrone in Omagh. All the patronising before the match was hard to listen to, so I'm glad we came out and delivered a performance. We're pleased with the performance, disappointed that there was six in it at the end, we didn't feel that it was a six-point game. That's the ruthless end of it and the gap we have to bridge, I suppose."
Derry proved their critics wrong with a spirited performance against last year's defeated All-Ireland finalists but Damian McErlain admitted they still have a lot to learn.
Most Read Stories