Sky reveal coverage schedule for 2019 All-Ireland championships
April 25, 2019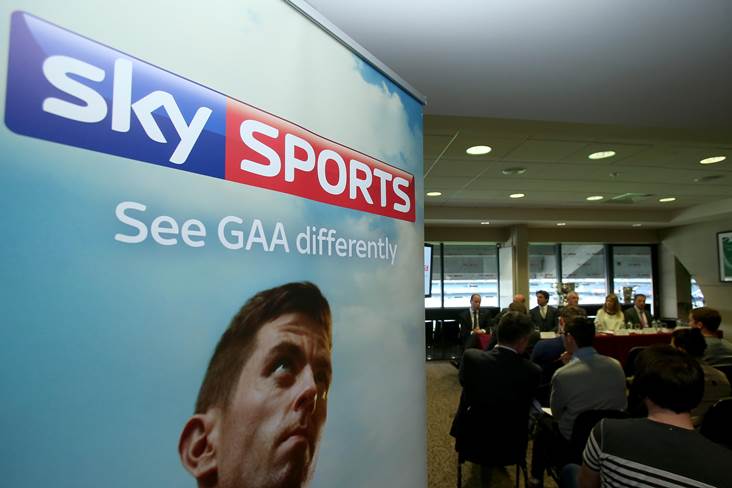 A Sky Sports GAA launch at Croke Park ©INPHO/Clive O'Donohoe
Sky Sports has announced its live TV schedule for the 2019 All-Ireland senior hurling and football championships.
There are 22 games set to receive live coverage with 14 of those set to be exclusively aired by the subscription broadcaster.
The Leinster SHC clash of Kilkenny and Dublin on May 11 will mark the first exclusive hurling encounter to be shown, while the Ulster SFC derby between Cavan and Monaghan on May 18 will kick off the football coverage.
Altogether, Sky will show seven hurling matches and 15 football encounters this coming summer.
Here's the full list of games that Sky Sports are set to cover:
Sky Sports 2019 GAA Championship Schedule
Kilkenny v Dublin (Leinster SHC), Saturday, 11 May
Cavan v Monaghan (Ulster SFC), Saturday, 18 May
Mayo/New York v Roscommon/Leitrim (Connacht SFC), Saturday, 25 May
Cork v Waterford (Munster SHC), Saturday, 8 June
Leinster Hurling Championship (Leinster SHC) x2**, Saturday, 15 June
Football Qualifier Round 2**, Saturday 22 June
Football Qualifier Round 3**, Saturday, 29 June
Football Qualifier Round 3, Saturday, 29 June
Football Qualifier Round 4, Saturday, 6 July
Football Qualifier Round 4, Saturday, 6 July
SFC Quarter Final, Round 1, Saturday, 13 July
SFC Quarter Final, Round 2 (Croke Park), Saturday, 20 July
SFC Quarter Final, Round 2 (Croke Park), Saturday, 20 July
All Ireland Hurling Semi Final, Saturday, 27 July
All Ireland Hurling Semi Final, Sunday, 28 July
SFC Quarter Final, Round 3, Saturday, 3 August
SFC Quarter Final, Round 3, Saturday, 3 August
All-Ireland Football Semi Final, Saturday, 10 August
All Ireland Football Semi Final, Sunday, 11 August
All Ireland Hurling Final, Sunday, 18 August
All Ireland Football Final, Sunday, 1 September
**Subject to fixture selection
Most Read Stories