The late John Nallen played for four different counties
January 05, 2019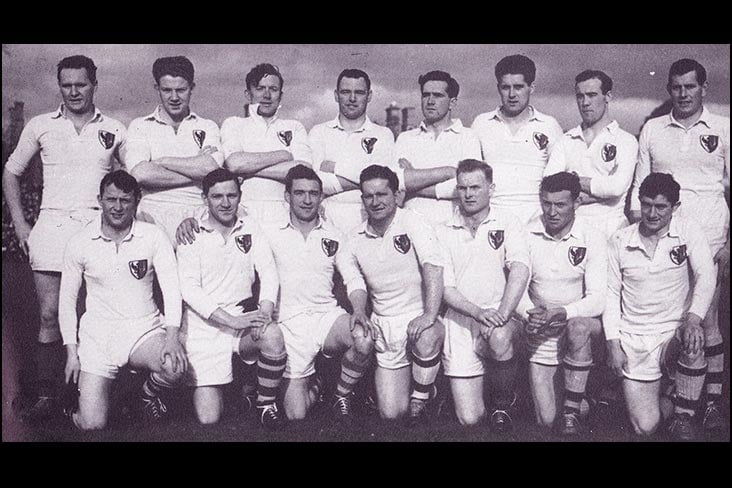 Those great Connacht Senior Football teams of the late 50's. Front l-r: Jack Mahon, Cathal Flynn, Packy McGarty, Sean Purcell, Willie Casey, Tom Dillon, Jackie Coyle. Back l-r:
John Nallen
, Mattie McDonagh, Gerry O'Malley, Nace O'Dowd, Gerry Kirwan, Frank Eivers, Mick Greally, Aidan Brady.
GAA followers in Mayo, Galway, Meath and Cavan were saddened to learn of the death of John Nallen yesterday.
The Crossmolina native had the distinction of playing senior football for all four counties during a remarkable career. The midfielder, who worked for Ulster Bank, won Connacht SFC medals with both Mayo and Galway and also picked up eight Galway SFC medals during a very successful spell with Tuam Stars. He also starred for Connacht in the Railway Cup. His late brother Fr Jim also played for Mayo as did his nephew James in more recent times.
John's remains will repose at the McMahon Funeral Home, Farnham Road, Cavan (H12C821) tomorrow from 4pm until 8pm. Funeral Mass will take place on Monday morning at 11am in the Cathedral of Ss Patrick & Felim, Cavan followed by burial in Cullies cemetery.
The following is a feature on John which appeared in Hogan Stand magazine in April 1993:
John Nallen - a remarkable football career
The Mayo man played inter county for four different teams Making declarations about unique feats or unrivalled achievement is a precarious business. Sport has a habit of making fools out of fledgling statisticians and carving into print suspect records is done at one's peril. An act best left to those with a monopoly on the use of the GAA best library facilities, one would hazard to suggest. We've come to learn of the claims made regarding the legendary Paddy Kilroy from Galway who reputedly played senior football with all four provinces during the twenties and thirties.
Some sixty years on, we can confirm that one John Nallen, of Crossmolina pedigree, can justifiably claim a place in the record books nestling in the GAA archival vaults. Few players, if any, can state with hand on heart, that, like the Mayo-born champion footballer, they've played and represented with distinction, four different counties at senior championship level over the course of their career. Forty years removed from the soil that first put the spring in his step, John Nallen still counts himself as being very much a Mayo man. Nevertheless, he still asserts a large degree of loyalty to his other three adopted counties of Cavan, Galway and Meath for he's a "fairly objective middle of the road sort of person and anyway, it's the only way to keep a clear slate with them all!"
A banker by profession, the sixty one year old former star midfielder reflects back on a long and illustrious club and county career with unrestrained exuberance but without the mundane overkill nostalgia that can often knock on the head promising interviews. Living for the present with a heard and a half, but glad to recall the past, the now Cavan town based professional has long since come to terms with the fact that he could no longer go on jumping two or three feet off the ground to claim the ball as his own.
"I'm enjoying football as much as ever. I didn't have any great problem in giving up the game and it wasn't long before I became a contented spectator. I'd have to say that I've received as much pleasure out of being a spectator than I could have expected," the football hero of the fifties and sixties explained. John Nallen's graduation from being an athletic teenager to an accomplished big time footballer wasn't achieved without surmounting some unexpected disadvantages however. Surprisingly, while attending Saint Muirdeach's College in Ballina, Co. Mayo, he wasn't afforded the opportunity to adorn his innate skills with college football experience.
A falling out between the Muirdeach school management and the GAA authorities meant that it wasn't until John played county minor football with his native Mayo that he was pitted against the creme de la creme of his footballing peers. By 1950, John Nallen was not only one of Mayo's most promising midfielders, he was also the proud holder of a Connacht minor championship medal, having captained his native county to success over Roscommon (3-7 to 1-4) in the decider of that year. The first year of the fifties decade was to see the rangy midfield maestro establish himself as a rare talent indeed. Again located in a central running and fetching role, he played a crucial part in Mayo's success over Derry in the 1950 All-Ireland junior league final (home) and thereafter in the decider against London (2-4 to 0-3) to cap a hugely rewarding year for him personally.
Standing at 5'11" but more mobile and agile than any player that height could ever aspire to be, John Nallen used his swiftness of foot and speed of thought to outwit the toughest of opponents. While serving his apprenticeship as a young player, playing in the airy heights of senior inter county fare, mixing it was never on his agenda, yet it was a spectre which he never shied away from either. Truth was, John Nallen found it easy to excel in the type of game that was played thirty or forty years ago.
Where clean fielding was as common as muck on the playing fields and where bunching was a term confined to rugby clubhouse post mortems. For seventeen seasons, the model sportsman was a colleague's delight and an opponent's nightmare. A dream companion to have on your side, a National Football League winners medal with the Red and Green in season 1953/1954 (Mayo 2-10, Carlow 0-3) was followed up the following year by the first of his senior provincial medal successes, when he starred on the Mayo team which recorded a 3-11 to 1-3 final victory over an embattled Roscommon side. Thereafter, the season was to prove a mixed bag for the then Tuam based Ulster Bank representative. Despite putting in a gigantic performance against Dublin in the '55 All-Ireland semi final which earned him an Irish Independent Sportstar of the Week award, there was to be no pot of gold at the end of the rainbow.
For young Nallen though, his recovery after a leg break the year before provided him with a measure of consolation. "My next Connacht final appearance was for Galway in 1959 when I played alongside six other Tuam Stars. I didn't play in the All-Ireland semi final, having broken my leg again and as a direct result of that, I only lasted a half an hour at corner forward in the final, which we lost to Kerry, which was very disappointing. It was unfortunately the nearest I ever got to winning an All-Ireland championship medal.
The fact that I didn't do myself justice in the final made it doubly disappointing for me," reflected the one time ace midfielder. Unlucky not to be involved with the great Mayo football side at the time they romped to All-Ireland senior county success in 1950 and 1951, the rangy midfielder fairly put himself in the forefront of the public eye by starring with the famed attacking duo of Sean Purcell and Frankie Stockwell on the Tuam Stars combination, between the years of 1951-1960. All the time a model player with the Mayo seniors, John Nallen proceeded to win eight senior Galway championship medals as a distributor of great ammunition to the 'Terrible Twins' who seldom fired on anything less than all cylinders. Who better then to paint a graphic picture of the Purcell/Stockwell axis than their much travelled team mate of some ten seasons. "Sean (Purcell) was probably the most complete football I ever saw.
He possessed all the skills and had a tremendous ability to read the game. He was always one step ahead of the posse. An idea of Sean's talent and versatility was that he played full back, centre half back, midfield, centre half forward and full forward for Connacht in his day" ... and Messr Stockwell ... "a very clever footballer, very agile and a player who had a tremendous spring to make up for being slightly small for a full forward. I remember in particular the time he scored 2-5, all from play, in the 2-13 to 3-7 All-Ireland final victory over Cork in 1956." Indicative of the bohemian lifestyle of a bank employee, the highly rated clerk was off to Trim, County Meath at the close of 1961.
Though finding it a wrench to leave Galway, he found the Leinster club to embody much the same type of spirit and heart so apparent back in Tuam. It was a home from home really and despite losing out in the 1961 county football final to Navan O'Mahonys, Nallen and co. rebounded that self same year to win the Feis Cup before making up for lost ground to romp home championship winners in 1962, when battling Ballinlough were breached in a novel county final.
On the inter county front, Meath's Leinster championship appearances in 1961, 1962, 1963 would leave the Royal County's midfield recruit sometimes forward with no tangible reward for his honest toil, alongside such notables as Peter Moore, Mick Dunican, 'Red' Collier and Jim Fitzsimons. By the time he was relocated once again, this time to Ballyjamesduff in County Cavan, the flesh was weak even if everything else was willing. Still, a junior championship medal in 1965 and intermediate honours the following season were gleaned in quick succession as the twice honoured Railway Cup star caused havoc on the edge of the square in the border county. A member of the Ireland team in seasons 1957/58 which included such aces as Cork's Tom Dillon, Derry's Jim McKeever, Louth's Dermot O'Brien and Leitrim's Packie McGearty (a team which beat the Combined Universities in successive years), the Castlerahan full forward played away until 1969.
Married to Killeshandra lady Maura O'Reilly, the ravages of an outwardly advancing stomach plus subsequent transfers to posts in Limerick city, Tuam again, Tralee, Granard (for an extended period of eight years), and finally Cavan town, combined to bring to a close a remarkable career. A player of outstanding talent, whose competitive edge always elevated him to a pitch few players of his era could live with, John Nallen, the Mayo man, succeeded on the football field in a manner that others could only dream of attaining.
At his very best in the 1955/56/57 hat trick of championship seasons, the thirteen stone fighting fit superb fetcher and distributor made little of his lack of GAA football family pedigree to install himself as a player who more than adequately earned his keep on all three provinces in which he plied his considerable skills. Rankled alongside great contemporary players such as Nace O'Dowd (Sligo), Roscommon's Gerry O'Malley and John Rice of Monaghan, the brilliantly versatile Nallen was, it's acknowledged, a gem to play alongside and a thorn to come up against. A footballer of few equals, in fact!
Most Read Stories