"I have grave reservations about the new rules"
December 06, 2018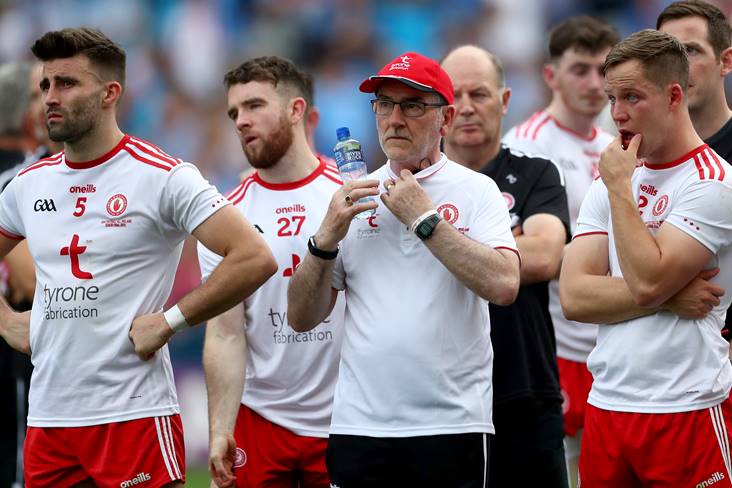 Tyrone's Tiernan McCann, manager Mickey Harte and Kieran McGeary dejected. ©INPHO/James Crombie.
by Orla Bannon
Mickey Harte says he has "grave reservations" about the proposed rule changes and thinks they should only be trialled in the subsidiary pre-season competitions.
The Tyrone manager believes there are too many rule changes being experimented with at once and is also disappointed managers and players were not consulted about the changes in advance.
Speaking at last night's Bank of Ireland Dr McKenna Cup draw in Belfast, the three-time All-Ireland winning boss suggested the rule changes could be self-defeating and instead of delivering on the aim of promoting attacking football, could actually have the opposite effect.
"I don't see them affecting the game positively the way the people bringing them in think they will do," he said.
"There's a potential for them to clog things up even more and lend itself to more defensive football. I don't see them making things any better.
"I'm okay with trialling them in the subsidiary competitions but I think there should be a very detailed review of them after that and we have to look very seriously to consider which of them, if any, will add value to our game in the national league for a start.
"There are too many rule changes. For any rule to be seen to be effective, you'd want to minimise the number of them for a start and have a really in-depth review of them after a trial.
"And if they're going to be in the league and not championship it makes no sense to me whatsoever to prepare and play in seven league games which will have no bearing on how you play in the game in the championship.
"That makes no sense and I don't think the sponsors would be too enamoured either."
Tyrone have sought and received permission from Croke Park to play their opening McKenna Cup game on December 16, as the Red Hands will be on a team holiday to Thailand when the first round proper begins on December 30.
That will be Harte's first glimpse of the rules, introduced by the Standing Committee on Playing Rules, in action.
"It surprises me that these rules were even talked about and brought to a meeting before... I mean I was never consulted about them and I've been involved in football for many years now.
"They never asked the managers.
"I don't think they asked the players a lot before they were mooted, and so they asked them after they had been put forward, and they were anything but happy with them.
"I've been speaking to referees and they're a bit concerned about it.
"It's making life more complicated for them in addition to what they already have to deal with it's going to make difficult, along with the players."
Harte was critical of the sin bin when it was trialled in 2005 but thinks it might be the best of a bad lot this time around.
However he is worried about the increasing demands being placed on referees.
"Imagine all the counting the referee has to do now – say he sees a free and he puts his hand up and he's counting five seconds before he decides if an advantage accrues, then he has to count fist passes, and the arbitary 20 metres, will he know the difference in 18 or 22 metres on a kick?
"That's going to be crucial because that's going into a scoring zone where you get 15 seconds to take a kick.
"The only one I see easy to implement and experiment with is the sin bin, which won't add much burden to the referee and the players can take it easily in their stride and they'll still be playing the same game we've played in the last number of years."
Most Read Stories