Sigerson Cup and Fitzgibbon Cup draws
December 05, 2018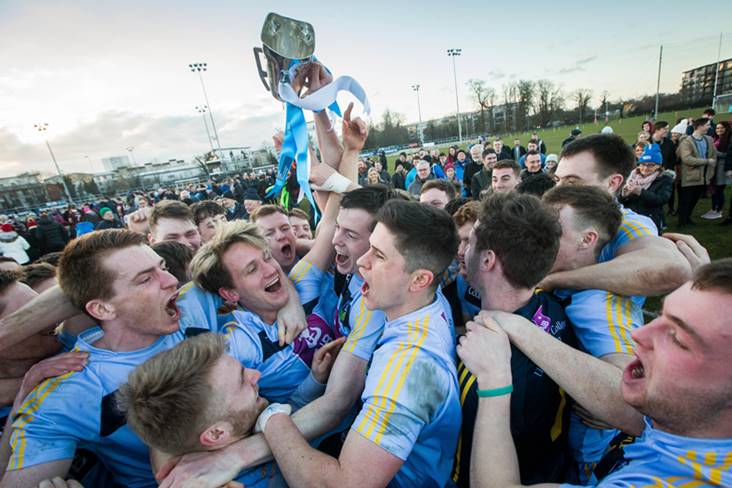 UCD celebrate with the Sigerson Cup at Santry
The draws for this year's Sigerson Cup and Fitzgibbon Cup competitions were made today.
Earlier this afternoon in the GAA Museum in Croke Park, the draws for the 2019 Electric Ireland Higher Education GAA Championships were made producing some mouth-watering ties to look forward to in the New Year.
GAA President John Horan said: "We are delighted that the playing and promotion of Gaelic games is such a respected tradition throughout third level education.
"There is so much more than history behind the Sigerson and Fitzgibbon Cups and many other tiers of keenly contested competition. The Electric Ireland Higher Education GAA Championships are a proven pathway in the development of talented players and, year after year, these games continue to produce memorable moments and signpost players to watch for future years."
Again, this year, all Sigerson fixtures will be played on campuses/local venues as part of the sixth year of a home-and-away agreement between all clubs. Any pairings which occurred over the last 5 years will now revert to the other club's venue. With improvements made to many of the GAA facilities in the Higher Education sector this will give clubs the opportunity to showcase their venues and will continue to raise the interest of the local student body in these fixtures.
With fixtures in the Electric Ireland HE GAA Championships scheduled to start on Wednesday January 16th, 2019, full details of dates, times and venues will be circulated later this week.
Fixtures, results and news updates will be available throughout the season on www.gaa.ie/higherducation
Follow all the action on the 'GAA Higher Education' Facebook page and on Twitter @HigherEdGAA and the hashtags: #Sigerson #Fitzgibbon #hegaa #FirstClassRivals
Electric Ireland Sigerson Cup
Round 1 January 16/20
A. DCU v IT Carlow
B. QUB v Maynooth University
C. IT Tralee v Ulster University
D. UCC v Athlone IT
E. UCD v Cork IT
F. NUIG v St Mary's
G. Garda v IT Sligo
H. DIT v UL
Round 2 January 23/24
I. Loser of A v Loser of E
J. Loser of B v Loser of F
K. Loser of C v Loser of G
L. Loser of D v Loser of H
Round 3 January 30
M. Winner of H v Winner of I
N. Winner of G v Winner of J
O. Winner of F v Winner of K
P. Winner of E v Winner of L
Quarter-Finals February 6
Q. Winner of M v Winner of D
R. Winner of N v Winner of C
S. Winner of O v Winner of B
T. Winner of P v Winner of A
Semi-Finals February 16
Q v R
S v T
Final February 20
Electric Ireland Fitzgibbon Cup
Group A: UCC, UL, NUIG, UCD
Group B: Limerick IT, IT Carlow, Trinity, Garda
Group C: Waterford IT, DCU, Cork IT
Group D: DIT, Mary I, Maynooth University
Group fixtures on Sunday January 20, Wednesday/Thursday January 23/24, Wednesday/Thursday January 30/31
Most Read Stories