Red Hand support for two-tier football championship
December 05, 2018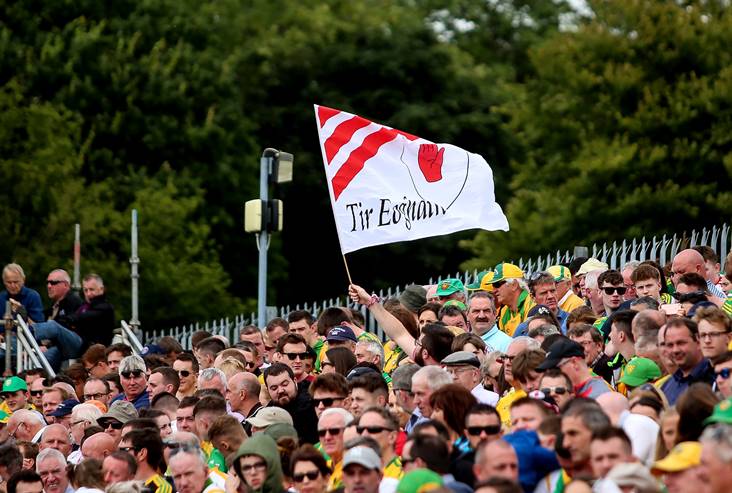 A Tyrone fan flies their flag. ©INPHO/Laszlo Geczo.
Tyrone secretary Dominic McCaughey has voiced his support for the introduction of a two-tier football championship.
Writing in his annual report to next week's convention, the Red Hand official revealed he would be in favour of an inter-county football championship running along similar lines to club models.
"On a trial basis, consideration should be given to commencing the inter-county season with the National League, followed by a stand-alone Provincial Championship, in which more than one game takes place on each weekend; then, an All-Ireland two-tier championship, with 16 teams in each tier, would conclude the inter-county season," he writes.
"The grading of teams for each tier of the championship would best be determined on finishing positions in the previous year's National League, with all Division 1 and Division 2 teams participating in the higher tier and all the Division 3 and Division 4 teams taking part in the lower tier championship.
"This set-up would bear a strong resemblance to that which operates very effectively at Club level in most counties; it would result in county teams participating in games that are much more meaningful and competitive – which is fairer to the stronger counties as well as to the weaker ones - and players competing against opponents of a similar strength and quality.
"With a two-tier All-Ireland championship, supporters and patrons would be attracted to attend games in greater numbers where the outcomes are not predictable, or foregone conclusions.
"The timeframes would remain condensed but the number of games to be scheduled within the allocated timeframes would be reduced, with the possibility of Club games being accommodated more readily, also."
Most Read Stories