O'Brien: "it's impossible to play two games in a row"
October 30, 2018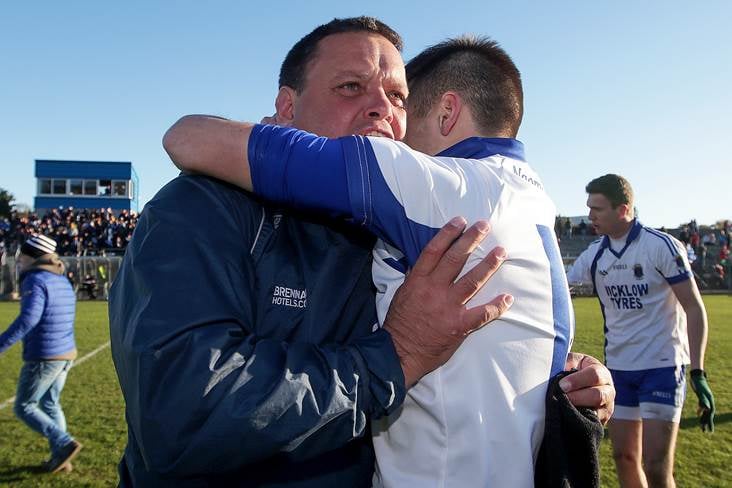 St. Patrick's manager Casey O'Brien celebrates with Jack Dunne ©INPHO/Laszlo Geczo
Casey O'Brien says it's "absolutely crazy" that Wicklow champions St Patrick's were asked to play in the championship on successive days.
After dethroning Rathnew in a hard-fought replayed Wicklow decider in Aughrim on Saturday, the Pats were forced to return to Joule Park to face Rhode in the first round of the Leinster Club SFC less than 24 hours later.
Obviously, they lost and their manager was understandably irate: "It can't be done, it's impossible to play two games in a row, especially with the effort that these other teams are putting in," former Garden County hurling boss O'Brien told The Irish Examiner.
"No matter how fit one team is, it can't be an even playing field the next day. Surely to God somebody somewhere along the line must've been able to shift a few fixtures and put our match back. There has to be a weekend break somewhere.
"It was totally unfair to whoever was representing Wicklow and after being in a losing dressing-room, it takes a little bit of an edge off winning the day before.
"The lads put a lot of effort in and sacrificed a lot of things, we couldn't tell them not to take a drink Saturday night, it was as simple as that. We left it up to them and they enjoyed themselves, and rightfully so.
"Rhode are a super team and if we hadn't played a match the day before we still mightn't have beaten them, but it'd definitely have been a lot closer than a 10-point deficit.
"And if roles were reversed and Rhode had to play Rathnew on Saturday, we would have beaten them. It's just a mad set-up, the horse that wins the Derby doesn't go out and run the next day so why should we? It's absolutely crazy."
Most Read Stories