Concussion care cultivated at Croke Park with GAA & UPMC Concussion Network
September 13, 2018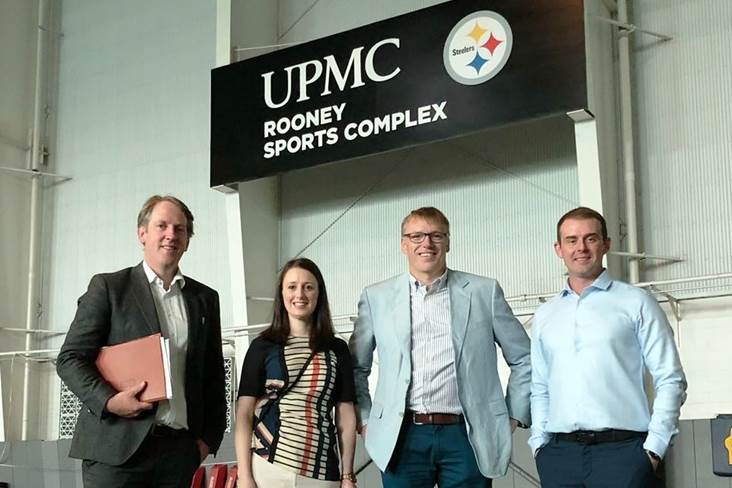 UPMC Concussion Network Clinical Leads, Dr Enda Devitt (Galway GAA) & Dr Tadhg Crowley (Kilkenny GAA) along with UPMC Concussion Network Lead Physiotherapists, Una Ni Mhainin (Bon Secours Galway) & Derek O'Neill (UPMC Whitfield) recently completed a 3-day clinical training at the UPMC Sports Medicine Concussion Programme, Pittsburgh, under the guidance of Dr Michael 'Micky' Collins and his team, internationally renowned experts in sports-related concussion. They form part of a growing team of clinicians within the national UPMC Concussion Network who will support the UPMC Sports Medicine Concussion team in delivering the GAA training event this November.
Building on the national concussion symposia of the last two years, the recently launched UPMC Concussion Network and the GAA have created a training programme that will focus on diagnosis and evaluation tools for concussion, identifying types of concussions, and treatment and rehabilitation methods. The event, which will take place on Saturday, November 10, 2018 in Croke Park will adopt the "train-the-trainer" model in which GAA team doctors support the UPMC Sports Medicine Concussion experts in delivering presentations, workshops and case study reviews.
The goal is to grow a national network of support for the management and treatment of concussion injuries within the GAA. According to a recent survey sponsored by UPMC, 6 out of 10 adults in Ireland say they've received no education about the signs, symptoms and management of concussion.
UPMC Concussion Network clinical leads within the GAA will also demonstrate how ImPACT® neurocognitive testing has become part of their concussion management programme, along with the referral pathway in place to support GAA medical teams nationwide to complement the GAA Concussion Management Guidelines. UPMC announced in June that it is partnering in Ireland with Affidea, the Bon Secours Health System Ltd. and ImPACT Applications Inc. to create the first countrywide network for the diagnosis and treatment of concussion in people of all ages. The UPMC Concussion Network includes clinicians specially trained in the model of targeted, individualised concussion care practiced at the world-renowned UPMC Sports Medicine Concussion Programme.
This training event is specifically designed for inter-county team doctors and physiotherapists from Senior, U20/U21 and Minor Gaelic Football and Hurling squads, as well as Senior Inter-County Ladies Football and Camogie. An application for CPD points has been made to the RCSI Faculty of Sports Medicine.
Trainers attending include:
* Dr. Michael "Micky" Collins – UPMC clinical director
* Dr. Anthony Kontos – UPMC director of research
* Anne Mucha – UPMC clinical director
* Dr. Niamh Lynch – consultant paediatrician, UPMC clinical lead
* Dr. Enda Devitt – Galway GAA team doctor, UPMC clinical lead
* Dr. Tadhg Crowley – Kilkenny GAA team doctor, UPMC clinical lead
* Dr. Sean Moffatt – Mayo GAA team doctor, UPMC clinical lead
* Aoife McMahon -- Bon Secours Cork, UPMC Concussion Network lead physiotherapist
* Derek O'Neill – UPMC Whitfield, UPMC Concussion Network lead physiotherapist
* Liam Moffatt – Mayo Sports Clinic, UPMC Concussion Network lead physiotherapist
The GAA, which has been at the forefront of concussion awareness and education in sport in Ireland, is delighted to provide this training opportunity for those doctors and physios who make such a vital contribution to our games at inter-county level.
Uachtarán CLG, John Horan, said: "We are delighted to continue to build on our relationship with UPMC Concussion Network in facilitating this training event. By providing training to those who look after our senior inter-county teams, this relationship will also help to establish referral pathways for players at all levels of the association who suffer this injury. The event is another opportunity to continue to increase awareness of the signs, symptoms of, and the graduated return to play protocols for concussion and our key message to coaches and mentors, which is– If in doubt, sit them out."
Further information on the event, including how to register for this free event, is available on the GAA website. http://learning.gaa.ie/Concussion
Spaces are limited and will be allocated on a first-come, first-served basis to doctors, physios or other medical professionals involved in Inter-County Gaelic Games. The intention is to expand the availability of this training in future years.
Most Read Stories