Mulholland "totally behind" Tally
September 13, 2018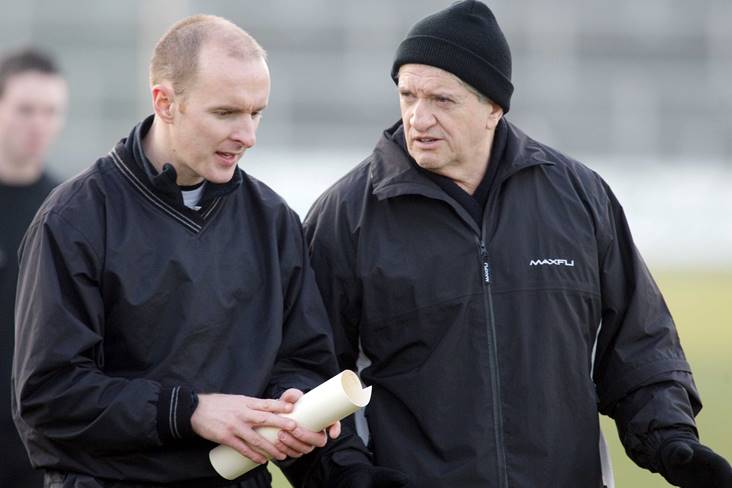 Paddy Tally with Brian McIver. ©INPHO/Presseye/Jonathan Porter.
Shane Mulholland has pledged his full support to new Down football manager Paddy Tally.
Mulholland put his name in the hat to succeed Eamonn Burns at the Mourne County helm but the Down County Board last month opted to appoint Tally.
However, having been named as manager of Queens University yesterday, Mulholland told The Irish News that, although he still harbours ambitions to manage his county at some point in the future, he wishes the current boss nothing but success:
"Long-term, the Down job is still my ambition at some point in the future. Being realistic, you hope you can maybe act in a vacuum where there's not a whole lot of natural candidates kicking around. Even from talking with Stevie [Poacher] at the time, I was saying 'Jim McGuinness applied for the Donegal job three times before he got it'.
"We didn't get too emotionally invested in it. We just said if an interview comes along, we'd start to think about what we might like to do, what we'd want to achieve. "You put your name in the hat and see what happens. I knew there would be other people with more on their CV - they targeted Paddy, they got him and that's great.
"But your county's your county, that's what your passion would be. That's what you would want to do. I've made no secret that's something I'd love to do at some point in the future.
"Paddy could be very successful, and I hope he is, so you could be looking four, five, six, however many years down the track. But I'm totally behind Paddy. Given his CV, I hope it turns out to be a fantastic appointment, I really do."
Most Read Stories