Cork, Tipperary and Galway lead the way as U21 Team of the Year nominees released
September 06, 2018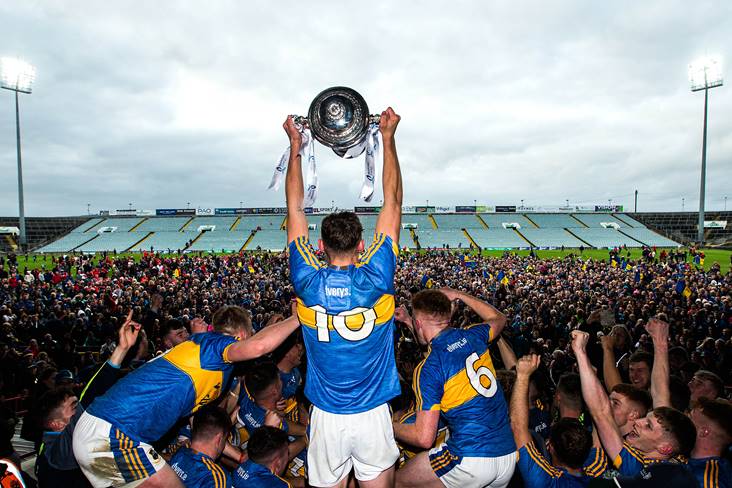 Tipperary captain Colin English lifts the James Nolan Cup after the All-Ireland U21HC final victory over Cork at the Gaelic Grounds, Limerick.
©INPHO/Tommy Dickson.
Munster champions Cork have pipped All-Ireland winners Tipperary and Leinster champions Galway to earn the biggest representation among the nominees for the Bord Gáis Energy U21 Team of the Year for 2018. In total eleven Cork men make the list while Tipp and the Tribesmen both have nine players each included. Leinster runners-up Wexford have six players on the forty-five-man shortlist.
Limerick, Waterford, Dublin and Kilkenny are all represented by two players on the list. The remaining two places go to Carlow and Westmeath.
The U-21 Player of the Year nominees have also been announced. Tipperary's Ger Browne and Jake Morris will compete against one another along with Galway's Fintan Burke and Cork's Mark Coleman for the accolade. Last year's winner of the prestigious accolade was Limerick's Aaron Gillane who was central to his team's All-Ireland Senior Hurling Championship success last month.
The Bord Gáis Energy U-21 Team of the Year and Player of the Year nominees were picked by a panel of judges chaired by Bord Gáis Energy Sports Ambassador Ger Cunningham alongside Bord Gáis Energy #HurlingToTheCore Ambassador Joe Canning, Waterford legend Ken McGrath and TG4's Micheál Ó Domhnaill.
Speaking to mark the announcement of the shortlist, Ger Cunningham said; "It's a mark of the new structure for the U-21 grade in 2018 that the All-Ireland champions have less nominees than the team they beat in the final. Tipp and Cork met twice in the championship and while the All-Ireland final was a close-run affair, the Munster final was very one sided in Cork's favour."
"That's taking nothing away from the deserved All-Ireland champions who certainly had many outstanding performers. This is recognised not only in the Team of the Year nominations but also by the fact they've had two players make the four-man shortlist for Player of the Year."
"In total ten counties are represented on the shortlist and we look forward to the winners being announced next month. I'm sure there will be plenty of debate between now and then."
The winners of the Bord Gáis Energy U-21 Team of the Year and Player of the Year will be announced on Wednesday 17 October when the B Championship Player of the Year will also be announced. Winners will receive their awards on Friday 19 October at a special ceremony in Dublin.
Full Shortlist for Bord Gáis Energy Team of the Year
Goalkeepers: Billy Nolan (Waterford), Barry Hogan (Tipperary), Ger Collins (Cork)
Right Corner Back: Paddy Smyth (Dublin), David Lowney (Cork), Damien Reck (Wexford)
Full Back: Darren Byrne (Wexford), Jack Fitzpatrick (Galway), Brian McGrath (Tipperary)
Left Corner Back: Killian O'Dwyer (Tipperary), Shane Bannon (Galway), Niall O'Leary (Cork)
Right Half Back: Fintan Burke (Galway), Conor Prunty (Waterford), Billy Hennessy (Cork)
Centre Back: Kyle Hayes (Limerick), Make Coleman (Cork), Robert Byrne (Tipperary)
Left Half Back: Dylan Quirke (Tipperary), Jack Grealish (Galway), Ian Carty (Wexford)
Midfield: Darragh Fitzgibbon (Cork), Richie Leahy (Kilkenny), Tom Monaghan (Galway), Seán Loftus (Galway), Ger Browne (Tipperary), Conor Cahalane (Cork)
Right Half Forward: Brian Ryan (Limerick), Robbie O'Flynn (Cork), Joe O'Connor (Wexford)
Centre Forward: Jerome Cahill (Tipperary), Rory O'Connor (Wexford), Declan Dalton (Cork)
Left Half Forward: Killian Doyle (Wesmeath), Cianan Fahy (Galway), Shane Kingston (Cork)
Right Corner Forward: Jake Morris (Tipperary), Kevin Cooney (Galway), Colin Currie (Dublin)
Full Forward: Tim O'Mahoney (Cork), John Donnelly (Kilkenny), Mark Kehoe (Tipperary)
Left Corner Forward: Simon Casey (Wexford), Evan Niland (Galway), Chris Nolan (Carlow)
Breakdown on Counties Nominated
Cork: 11
Tipperary: 9
Galway: 9
Wexford: 6
Limerick: 2
Waterford: 2
Kilkenny: 2
Dublin: 2
Westmeath: 1
Carlow: 1
Nominations for Player of the Year
- Ger Browne (Tipperary)
- Fintan Burke (Galway)
- Mark Coleman (Cork)
- Jake Morris (Tipperary)
Most Read Stories