Heslin concern for Westmeath
May 16, 2018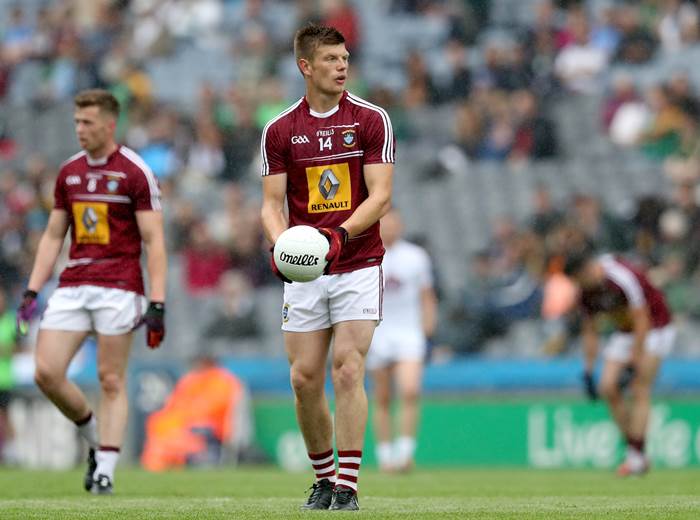 Westmeath's John Heslin.
There are concerns over the fitness of Westmeath forward John Heslin ahead of their Leinster SFC clash against Laois on Saturday, May 26th.
Heslin is struggling with a hip flexor injury and manager Colin Kelly admitted to the Westmeath Independent that it was difficult to set a timescale on the injury.
Already out of the Laois game is experience defender Frank Boyle who won't feature for the rest of the year due to a neck injury.
Another defender Mark McCallon is also rated as doubtful for the provincial quarterfinal as he is recovering from a shoulder injury.
"John has given great service to his club and county down through the years and its hard to gauge if he will be back in time for the Laois game. As it stands now, his position is not ideal," said Kelly.
"He is suffering from a hip flexor injury and is fighting the clock to be back in time. Mark is out with a shoulder injury. He's been receiving treatment, and it's very hard to give a definitive answer if he will be back. This type of injury needs time to heal and we want to ensure that he is fully recovered before he returns to county duty."
Kelly also confirmed that another defender Killian Daly had left the panel due to work commitments. The Mullingar Shamrocks clubman is a member of the Garda Siochana.
"Unfortunately Killian wasn't able to give the commitment, I was looking for, so he's not on the panel anymore. I expect Killian to play a huge part in future Westmeath teams but at the minute he is concentrating on work commitments."
Most Read Stories