Masita Ireland announces new four year partnership with USGAA
April 13, 2018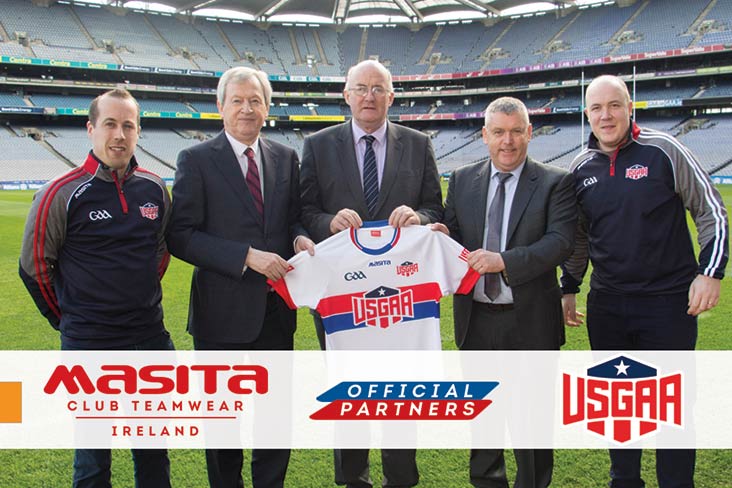 Stephen Reddy (Masita), Páraic Duffy (Former director general of the GAA) (John Horan President of the GAA) Paddy McDevitt (USGAA), Declan Smith (Masita).
Masita Ireland has announced a new sportwear partnership with USGAA. Masita Ireland are officialy licenced by the GAA, LGFA and Camogie associations.
The family-run company's expansion into the US should create further Irish jobs at their facility in Kells, Co Meath where teamwear production is carried out.
Company Director Des Smith stated: "Whilst we have a very good relationship with a lot of American GAA clubs we feel that this partnership should give us the opportunity to expand our presence in the US GAA market.
"As a club team wear specialist we always felt that the USGAA market was a perfect fit for our company."
USGAA chairperson Gareth Fitzsimons says they are looking forward to working with the company which will be soon celebrating 20 years in business.
"We are excited to partner with Masita as the official teamwear supplier of USGAA," Mr Fitzsimons enthused.
"We have seen some of the work that Des and his team have done for some of the clubs here in the USA, and it is clear that the company is on the cutting edge when it comes to design and have an impressive reputation for being easy to work with. 
"We look forward to working with Masita in the coming years and are confident that our clubs will receive a quality product and value for money in the coming years."
Most Read Stories