Leaked GAA report recommends payment for inter-county players
March 30, 2018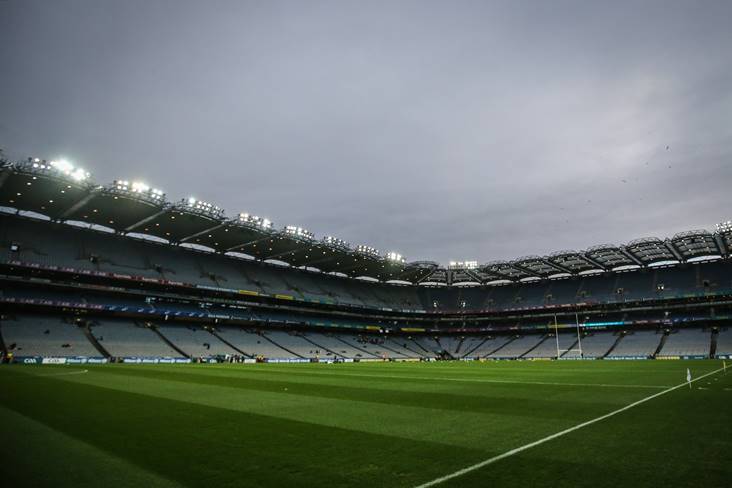 The Croke Park pitch before the mens-ladies league double-header involving Dublin, Cork and Donegal.
©INPHO/Oisin Keniry.
The GAA's soon-to-be-published Towards 2034 - the 150th anniversary of the GAA document is proposing the payment of an allowance to inter-county players.
The radical report, which has been seen by The Irish Times, contends that the traditional mileage expenses system is "neither equitable nor fit-for-purpose", and is recommending an agreed allowance for inter-county players instead.
"By 2034, the GAA will have developed a model to recognise the time and effort contributed by senior inter-county players and their respective managers. This will facilitate effective budgeting where senior inter-county players and managers will retain their existing amateur status but have their value to the Association, and their enormous commitment to their sport, recognised by a defined and agreed allowance," it reads.
However, the report - which contains a number of proposals from a committee established by former president Aogán Ó Fearghail - is strongly opposed to club players being similarly compensated.
"At club level no payments will be made for playing, coaching, or team management," the committee recommends.
The report is also proposing that there be a reduced emphasis on the inter-county game.
"The committee envisages that by 2034 the topic of the day will no longer revolve solely around the inter-county games, but will focus and recognise the contribution of local GAA clubs, club committees, county boards and national structures.
"The real strength of the GAA family will be determined by club membership, volunteers and levels of participation in GAA activities.
"It is imperative that the Association creates separate and distinct playing seasons for inter-county and club championships in order to provide a regular and meaningful schedule of games for all players and, in turn, recognises the important ongoing work taking place in this regard at the time of writing (November 2017)."
The document, which aims to spark debate among the GAA membership, is also proposing the abolition of provincial councils and the relaxation of the rule barring rugby and soccer from being played at GAA venues outside Croke Park.
Most Read Stories