'Difference of opinion' sees O'Keeffe leave Rossies' backroom team
March 14, 2018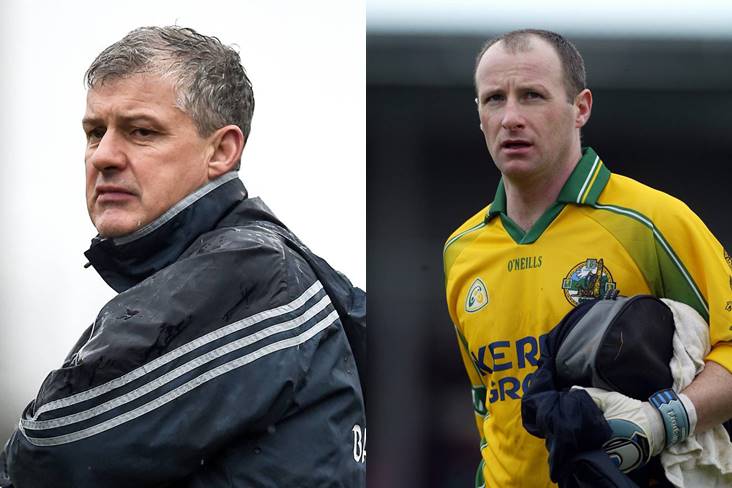 Roscommon manager Kevin McStay and former Kerry goalkeeper Declan O'Keeffe.
Former Kerry goalkeeper Declan O'Keeffe has stepped down from his role as Roscommon goalkeeping coach following a 'difference of opinion' with Kevin McStay and his selectors.
O'Keeffe, a two-time All-Ireland SFC winner with the Kingdom, was appointed Roscommon goalkeeping coach 18 months ago by McStay.
In his first year involved in the set up, Roscommon won the Connacht SFC before losing out to Mayo in the All-Ireland quarterfinals.
However, McStay explained to the Roscommon Herald that O'Keeffe left his role after he didn't agree with their selection process.
"Declan has decided not to carry on with us, which is disappointing. We had great time and a lot of respect for him," stated McStay who went on to explain the reasons for the Kerry native's departure.
"He coaches the goalkeepers. We select the goalkeepers. There was a difference of opinion, which happens all the time. Declan was disappointed with our decision and, perhaps, the direction we were going regarding the goalkeeping position.
"We're well advanced (in terms of recruiting a new goalkeeping coach). We're working on it but I'm not going to rush it. Declan has done great work with the goalkeepers. James (Featherston) was very decent the last day. Okay, he got beaten to a Gary Brennan flick but a lot of goalkeepers in Ireland will get beaten by Gary Brennan in and around the square.
"But, I'm happy with him. He's 19, he's growing all the time and Declan played a big, big part in that. It's up to Colm (Lavin) to fight his way back in and I'm sure we'll see Colm at some stage very soon."
Most Read Stories