Galway's Armstrong looking forward to rare crack at the Dubs
March 13, 2018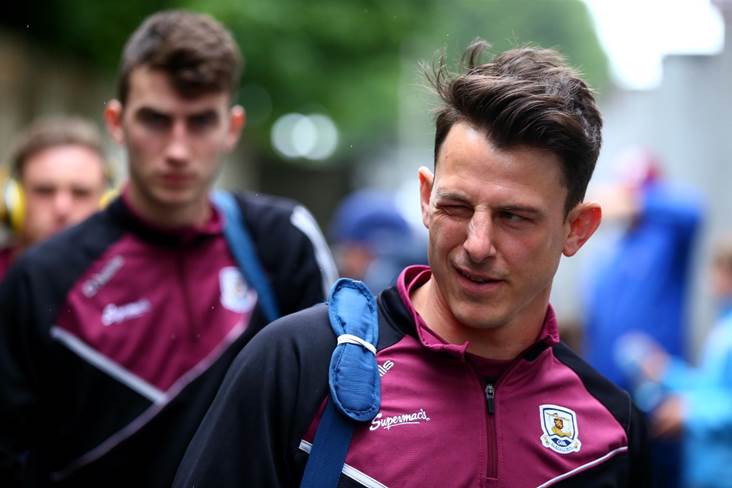 Galway's Sean Armstrong gives a wink before his side's Connacht SFC semi-final clash against Mayo at Pearse Stadium, Salthill.
©INPHO/Cathal Noonan.
by Declan Rooney
Experienced forward Sean Armstrong is excited about Galway's first chance to test themselves against Dublin in seven years as Division 1's two unbeaten teams go head to head next Sunday at Pearse Stadium.
Armstrong, who turns 32 next week, made an early appearance as a substitute for the injured Patrick Sweeney as Kevin Walsh's side claimed a fifth win from five league outings against Monaghan last weekend, a game in which the Salthill-Knocknacarra forward played a key role.
Armstrong did not feature when the sides last met and drew in 2011, a time when Dublin were managed by Pat Gilroy and Galway by Tomás Ó Flatharta, but facing the four-in-a-row All-Ireland winners is a very different challenge for Walsh's side, according to Armstrong.
"They're the benchmark, they have been for the last five years. If you really want to test what you're like and see where you're at, Dublin are the team to play," said Armstrong, who returned to the Galway squad last season.
"It's nice that we have ten points and we're safe in the league but we'll be going out and seeing what it's like against the top (team)."
Unlike previous years Galway have elected to employ a mass defence, which is well organised and capable of breaking out quickly and transitioning into attack efficiently.
Armstrong played a key link role in that game plan at the weekend and he says the current Galway team don't care about how they are regarded - as long as they are coming out on top in big games.
"If we're winning I think we're happy! We don't mind if it's entertaining. We have a lot of pace and we have a lot of skilled forwards.
"What we're trying to do is get a good defensive shape and try and break at pace. If you have break at pace and you have the space up front, you can turn it on.
"It's not like we're given one role and we have to stick rigidly to that role. We have a shape but you're allowed play within that shape and you're given autonomy and given a responsibility to play in that shape.
"We're trying to work on our process, trying to work on our weaknesses, trying to work on defensive shape. We're trying to work on the whole lot. We try to stick to the process and hopefully the result takes care of itself."
Galway have already guaranteed themselves a slot in the league final, and should Walsh manage Galway to the Division 1 title he will add it to last year's Division 2 win with Galway and Division 3 and 4 victories earned with Sligo in 2009 and '10.
But even from last year this is a different Galway squad, with plenty of young faces taking their chance after graduating from the underage grades.
"You have a couple of new lads out there. Peter Cooke has come into the squad this year, Sean Kelly has come into the squad, Sean Andy Ó Ceallaigh has come into the squad. And they've been starting," said Armstrong.
"They're trying to learn the process and learn the shape. It's a work in progress. We are by no means the finished article but every game is a progression and that's what we're trying to work on."
Most Read Stories