Gavin irate after Fitzsimons ban is upheld
March 12, 2018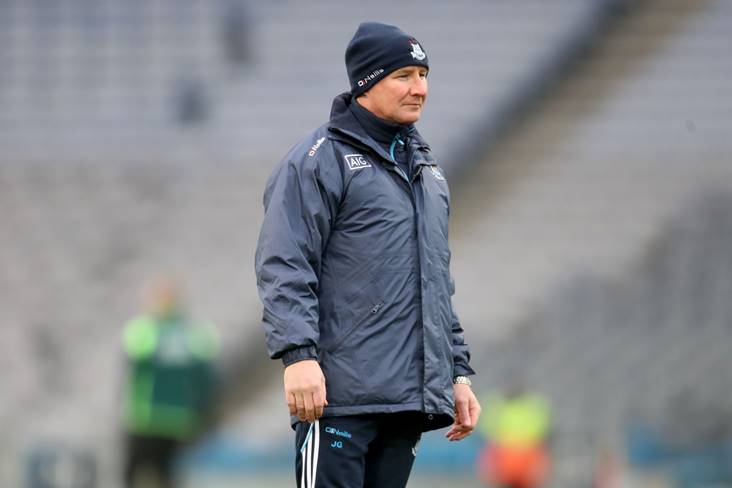 Dublin manager Jim Gavin.
©INPHO/Bryan Keane.
Jim Gavin has expressed disappointment at the GAA's decision to turn down Dublin's appeal against the red card Mick Fitzsimons picked up against Mayo.
The defender was suspended for yesterday's emphatic Allianz Football League victory over Kerry after he was sent off for the incident involving Aidan O'Shea earlier this month.
Asked by reporters in Croke Park if he was surprised that the appeal failed, the Dublin manager replied: "Surprised is probably an understatement. We were here on Thursday night at the Central Hearings Committee meeting and we had to demonstrate conclusive evidence that his foul wasn't a Category III offence - dangerous play - and we'd footage from eir Sport, great footage, to show conclusively that it wasn't dangerous play.
"It was deemed that we didn't conclusively demonstrate that, which for those of us who played the game and coach the game and understand that if a player is leaning in to take a shot and all the indicators are that he is going to shoot, then you commit yourself to the block.
"It was a great offload by Aidan O'Shea at the last moment and Michael was committed with momentum to the block. At the time I thought it was a free out for the over-carry but that aside, it's a minor point.
"Aidan O'Shea's great off his left foot and he needs to be blocked and Michael commits the block and there's a minimum contact and no reaction from the Mayo players.
"Aidan gets up and plays on and it's deemed that there was a Category III offence, which I believe is bizarre. Maybe there's an objective to sanitise the game of Gaelic football and I look at the hurling fraternity and they've kept the physicality in their game and it's a great sport because of it so we just need to be mindful of that."
Most Read Stories