Duignan condemns 'despicable' Tuohy incident
March 12, 2018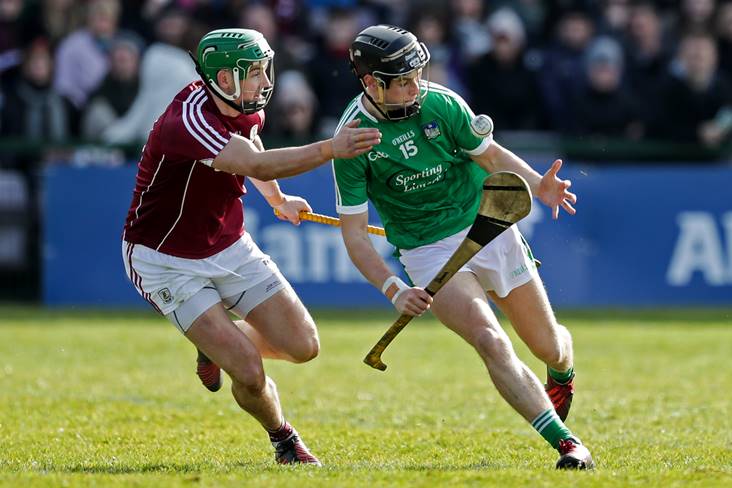 Limerick's Barry Murphy and Adrian Tuohy of Galway.
©INPHO/Laszlo Geczo.
Michael Duignan has expressed his disgust at an incident involving Galway's Adrian Tuohy and Limerick's Barry Murphy during yesterday's Allianz Hurling League Division 1B promotion decider.
TV replays showed Tuohy jabbing his hurl into Murphy's groin area late in the first half of the game in Salthill, which Limerick won to clinch promotion to Division 1A for 2019. The Galway defender received a yellow card from referee Cathal McAllister, but speaking on RTÉ's League Sunday, Duignan believes the punishment should have been far greater.
"To me it's absolutely despicable," the two-time Offaly All-Ireland winner fumed.
"A belt into the testicles like that... You might give a lad a belt into the stomach, but hurling people don't do that.
"Amazingly, Cathal McAllister goes over to the All-Ireland referee, Fergal Horgan, on the line and asked him if he saw it.
"He obviously saw something, because he gave him the  card. How can he give a yellow card? What sort of an example are we showing?
"We all played the game hard and there would be belts given, but that sort of an incident - and I had a bad injury in that area, and my young lad did as well - is not nice. It's life-changing."
Most Read Stories