"Love of the game is what it's all about"
January 13, 2018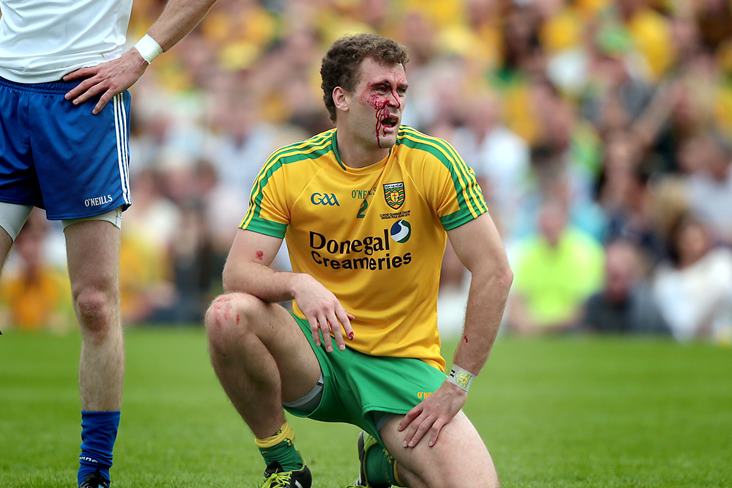 Donegal's Eamon McGee sustains a facial injury against Monaghan
The positives of playing inter-county football far outweigh the negatives as far as former Donegal star Eamon McGee is concerned.
Writing in today's Irish Daily Star, the 2012 All-Ireland winner addressed points raised by Tipperary's Kieran Bergin and Meath's Joe Sheridan in the past week about the excessive demands being played on the GAA inter-county player nowadays.
"Did I like drink bans and gym programmes or feeling guilty about having a bar of chocolate?" McGee writes. "No, I detested them but I loved playing football and all that comes with the territory.
"Dermot Brady from Longford gave a great interview to the Sunday Independent last week to mark the end of his 17 years with the county.
"Love of the game, not medals. That was the message.
"Inter-county GAA is just not for everyone, that's fair enough. If you aren't enjoying it pull the pin and do something else.
"Myself, Christy Toye and Neil Gallagher talked about this during the week - would we do it all again?
"Of course we'd all won an All-Ireland and a few Ulsters so our answer was obvious.
"But I like to think that if things had been different, I'd be like Dermot Brady.
"Love of the game is what it's all about."
Most Read Stories