Gallagher sets sights on promotion
January 11, 2018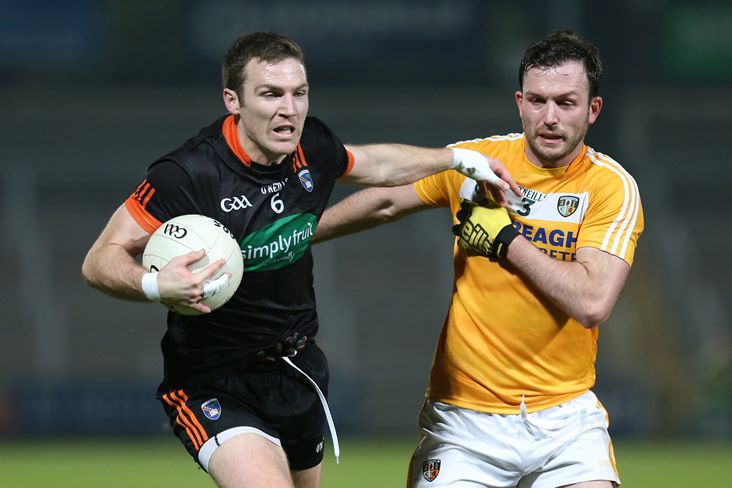 Armagh's Brendan Donaghy in action with Antrim's Patrick Gallagher
©INPHO
Antrim defender Patrick Gallagher believes that the Saffrons are more than capable of booking a quick return to Division 3 of the National League with the players at their disposal.
Lenny Harbinson's side slipped to a 4-8 to 0-15 defeat to Sigerson Cup holders St Mary's last night, having sprung a surprise win over Cavan last Sunday in Woodlands.
The latter result produced some excellent performances from the Glensmen and their full-back believes that the team's form can continue to improve as they get set to enter into Division 4 in a little over two weeks' time.
"There are some brilliant young players in the squad," Gallagher told The Irish News. "You look at the players Frank (Fitzsimons) and Gearoid (Adams) blooded and the vast majority of them are backs and they're going to be better again after having that year under their belts.
"Peter Healy was brilliant, Conor Hamill had a really good year, Ruairi McCann came in for the first time and they are solid county footballers now. They held their own in Division 3 and hopefully they can do that in Division 4.
"Coming in and seeing the new set-up, I'd be definitely optimistic. Last season, we played Armagh on a Saturday night, 7,000 or 8,000 under lights, an Ulster derby; those are the games you want to be playing in.
"We're a little bit disappointed we're not getting that in 2018 but the team is young enough and hopefully we can get back up where we should be and beyond. There's a Croke Park appearance if you get promoted. That was a big plus two years ago when we got promoted and played Louth at Croke Park. So there's plenty of motivation there."
Most Read Stories