Dr McKenna Cup round-up: Red Hands and Erne men to the fore
January 10, 2018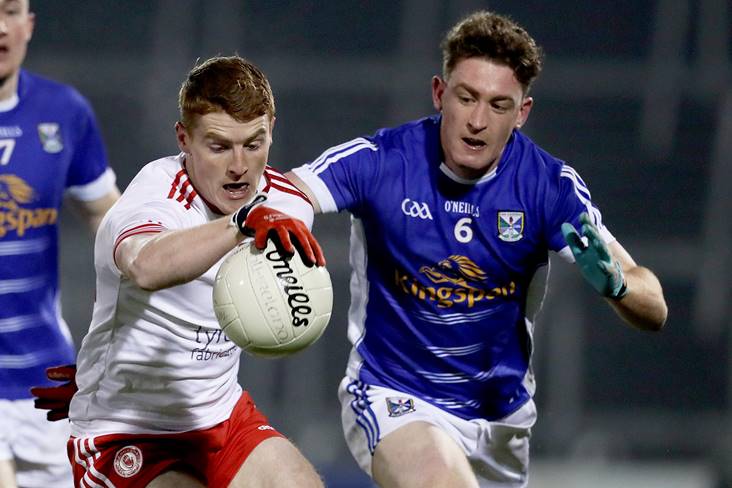 Tyrone's Peter Harte with Ciaran Brady of Cavan.
©INPHO/Tommy Dickson.
Tyrone, Fermanagh and Derry were the big winners in tonight's third-round Dr McKenna Cup games.
All six scheduled matches proceeded despite the foggy conditions province-wide and holders Tyrone easily maintained their 100% record as they cantered into the semi-finals following a 2-22 to 0-7 mauling of Cavan at Breffni Park.
With Peter Harte calling the shots before departing the fray due to injury, the Red Hands led by 0-11 to 0-1 at the break and they were never troubled in any way as late goals from Niall Sludden and Mattie Donnelly put some icing on the cake.
Meanwhile, at Ballybofey, Seamus Quigley was Fermanagh's hero as he helped himself to 1-7 to give manager Rory Gallagher a satisfactory return to Donegal. The hosts had registered 1-5 without reply, including a Jamie Brennan major, to lead by five points after 25 minutes but the recalled Quigley took the game by the scruff of the neck to help the impressive Erne men through to the last four.
Derry also sealed their second win of the campaign from two outings when a last-gasp Niall Toner goal handed them a dramatic 1-14 to 2-10 win over Down in a thrilling encounter played in thick fog at Celtic Park. Kevin McKernan was a late inclusion in the Mourne County XV and first-half goals from him and Sean Dornan had the visitors 2-7 to 0-8 to the good at the break. The Oak Leaf County never gave up, though. and battled to another narrow victory, having edged out UUJ last week.
Derry's Niall Toner against Louth.
©INPHO/Presseye/Lorcan Doherty.
A Mark Bradley inspired Jordanstown side looked to be on course for victory in the Athletic Grounds tonight but the Orchard County finished strongly to earn a precious point, 0-12 to 1-9.
At Woodlands, Antrim were unable to build upon their surprise victory over Cavan last weekend as the concession of four goals saw them come unstuck against St Mary's, 4-8 to 0-15.
And Monaghan had no trouble securing their first win of the year as first-half goals from David Garland and Jack McCarron helped them to a comfortable 2-13 to 0-7 win over Queen's. Garland netted in the first minute and McCarron in the 37th as the Farney County established an unassailable 2-8 to 0-2 interval lead.
Tyrone - N Morgan; B Burns, P Hampsey, H P McGeary; M McKernan, T McCann, R McNabb; C McShane, P McNulty; M Donnelly (1-1), N Sludden (1-2), P Harte (0-7, 4f); L Brennan (0-5, 3f), F Burns, R O'Neill (0-6, 2f). Subs: C McCarron for P Hampsey, C McLaughlin for R McNabb, C McCann for C McShane, R McHugh (0-1) for P Harte, R Donnelly for P McNulty, M Cassidy for T McCann.
Cavan - J Farrelly; D Phillips, D Monahan, D Kennedy; Conor Brady (0-1), Ciaran Brady (0-1), O Kiernan (0-1); T Galligan, P Faulkner; J Wharton, E Flanagan, N Clerkin; C Bradley, N McKiernan (0-1), B Magee (0-2, 1f). Subs: D Brady for C Bradley, P Moore for J Wharton, C Moynagh for N Clerkin, D McIntyre (0-1) for Conor Brady, C Daly for E Flanagan (BC), P Gilchreest for T Galligan.
Referee - N Cullen.
**
Fermanagh - P Cadden; E McHugh, C Cullen, K Connor; P McCusker, L Cullen, D McCusker (0-2); E Donnelly (0-1), R Jones; B Mulrone (0-1), D Teague (0-1), A Breen (0-1); R Lyons, C Jones, Seamus Quigley (1-7, 0-5f, 0-1'45). Subs: R Corrigan for D Teague, C McManus for E McHugh, C McGee for R Lyons, Sean Quigley for Seamus Quigley, J McCann for C Jones (BC), E Courtney for A Breen.
Donegal - M A McGinley; P Brennan, E Doherty, S McMenamin; T McClenaghan, C Ward, M O'Reilly; H McFadden (0-1), N Mullins; C McGinley (0-1), O MacNiallais, M Carroll; S McBrearty (0-2), D O'Connor, N O'Donnell (0-4, 2f). Subs: J Brennan (1-2) for O MacNiallais (BC), E Ban Gallagher for S McMenamin (BC), C McGonagle for C McGinley, B McCole for P Brennan, L McLoone for D O'Connor, A Lyons for N Mullins.
Referee - P Hughes.
**
Derry - O Hartin; C McCluskey, L McGoldrick, R Mooney; P Coney, M McEvoy, J Curran; J Doherty, C McAtamney; C McFaul (0-1), C Doherty, E Lynn (0-6); N Toner (1-0), P Hagan (0-2f), M Lynch (0-3, 1f). Subs: M Bateson for J Curran, P Kearney (0-1) for C McCluskey, J Kielt (0-1f) for M Lynch, F Higgins for P Hagan.
Down - S Harrison; C Flanagan, G McGovern, B McArdle; A Doherty (0-1f), N McParland, C Mooney (0-1); A Morgan (0-1), C Poland; S Millar (0-3), K McKernan (1-2), C Francis; R Millar (0-1), S Dornan (1-0), J Guinness. Subs: B O'Hagan for C Francis, D O'Hanlon (0-1f) for J Guinness, C Harrison for S Dornan, S Murnin for C Mooney, S Murray for R Millar.
Referee - A Marron.
**
St Mary's - M Reid; K Mallon, G Walsh, M Rooney; C MacIomhair (2-0), C McConville, R Lundy; L Devlin (1-0), J Og Burns; A Duffy, D Kavanagh (0-2, 1f), A Boyle; P Gunning, J Colton, R McSherry. Subs: S McConville (1-3) for J Og Burns, C Convery (0-1f) for J Colton, P McAtamney (0-1) for A Duffy, J Hannigan for R McSherry, C Carr (0-1) for P Gunning.
Antrim - C Kerr; C Hamill, J Laverty, N Delargy; R McCann (0-2), S McVeigh, P McAleer (0-1); R Johnston, N McKeever; S Beatty, P McBride (0-2, 1f), P McNicholl; G Magee (0-1), C Duffin (0-1), R Murray (0-4f). Subs: C J McGourty (0-2) for G Magee, C Murray (0-1) for P McNicholl, P Brannigan for C Hamill, M Fitzpatrick (0-1) for S McVeigh, K O'Boyle for J Laverty, K Healy for C Duffin.
Referee - P Faloon.
**
Monaghan - R Beggan; R Wylie, C Boyle, C Lennon; K O'Connell (0-1), F Kelly, O Coyle (0-2); A Lynch (0-1), N Kearns (0-1); T Kerr, Jack McCarron (1-1), P McKenna (0-1); D Garland (1-4, 0-3f), D Hughes (0-1), D Connolly. Subs: S Garland for R Beggan, D Ward for Jack McCarron, J Mealiff (0-1) for K O'Connell, D McArdle for R Wylie, F Connolly for D Hughes, S Finnegan for F Kelly.
Queen's - J Deeney; N Keenan, P Murdock, K McDonnell; C Murphy (0-2), J McMahon, A Fegan (0-1); S Heffron, L Oliver; C O'Neill, C Donaghy, D McKeever; T Rushe, R Burns (0-2, 1f), C Harney (0-1). Subs: E Fyfe for T Rushe, A Hasson for J Deeney, P O'Hagan for C Donaghy, E Deane for P Murdock, B Heavron for N Keenan, E Mallon (0-1) for J McMahon.
Referee - P Clarke.
Most Read Stories