McConville: the Palestinians need our support
December 11, 2019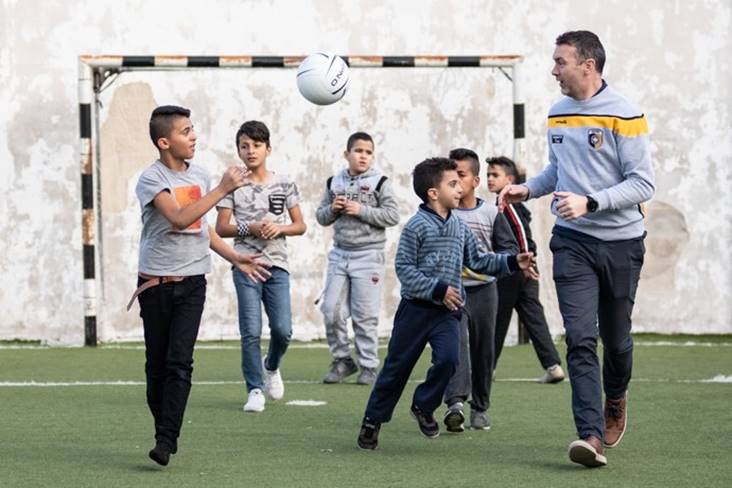 Oisin McConville takes a gaelic football training session with young Palestinian refugees at the Aida refugee camp in Bethlehem. Pic via trocaire.org (credit: Gary Walsh).
Oisin McConville visited Gaza with Trocaire last week and the trip reminded him of growing up in Crossmaglen during the Troubles.
The 44-year-old saw several projects supporting Palestinians, who are suffering from the devastating Israeli blockade of Gaza and the ongoing occupation of the West Bank.
"Growing up in Crossmaglen, we faced intimidation and harassment, so I know what that's like," he said.
"That's exactly what I saw over there. Palestinians are suffering and they're being mistreated. I'm not political, but there's no doubt about it that this is a political situation and you can't get away from that, even if you just try to look at it from a humanitarian perspective.
"People need to speak out about it. I only had a basic understanding of the conflict heading over, but it's obvious that the Palestinian people are suffering and they need our support."
The 2002 All-Ireland SFC medalist continued: "I'd like to encourage people to support Trócaire and their work over there. I was very impressed to hear about the work supporting mental health, the psychological support for people who have been absolutely devastated by war, and the blockade has only made things worse.
"I had a gambling addiction myself. It was only when I came out the other side of my treatment that I realised a lot of my trauma had come from the conflict [in the north of Ireland]. Part of that would have been a lot of intimidation, oppression and harassment and sometimes you just didn't feel safe.
"It was only later that I realised it was all part of my trauma. One of the reasons I ended up with an addiction was because I was dealing with my trauma through gambling. This can manifest itself in many ways – through addiction as well as domestic violence and gender-based violence.
"That's why seeing Trócaire's mental-health work in Gaza was so interesting for me. I'm very interested in education in this area. The work going on over is well worth supporting."
To find out more about Oisin's visit and how you can support Trocaire's Christmas appeal visit: trocaire.org.
Most Read Stories