Harte's concern for McMahon
August 13, 2013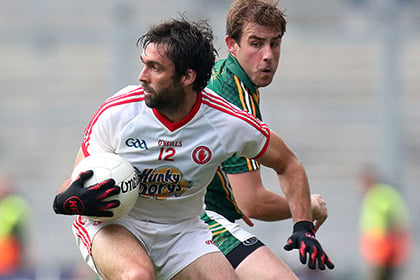 Joe McMahon of Tyrone with Meath's Brian Farrell. INPHO
Mickey Harte admits to being concerned over Joe McMahon's groin injury.
The Omagh man had to be substituted during the second half of Tyrone's All-Ireland SFC quarter-final win over Monaghan ten days ago and manager Harte is keeping his fingers crossed that the older McMahon sibling will be ready to face Connacht kingpins Mayo in the first of this year's semi-finals on August 25th:
"Joe had a problem with the groin," Harte reveals in The Irish News. "He had to have treatment on it and he didn't train last week.
"We'd hope before the week is out that he'll be fit to join training again, but it's a cause for concern. We have to just bide our time and see what happens.
"He's had trouble with this in the past. We have to see how it responds to the treatment he's getting now, take it on a day-at-a-time basis. We're just hoping that everything will go well for him."
Most Read Stories