Rochford: time will tell if Mayo can bounce back
June 19, 2016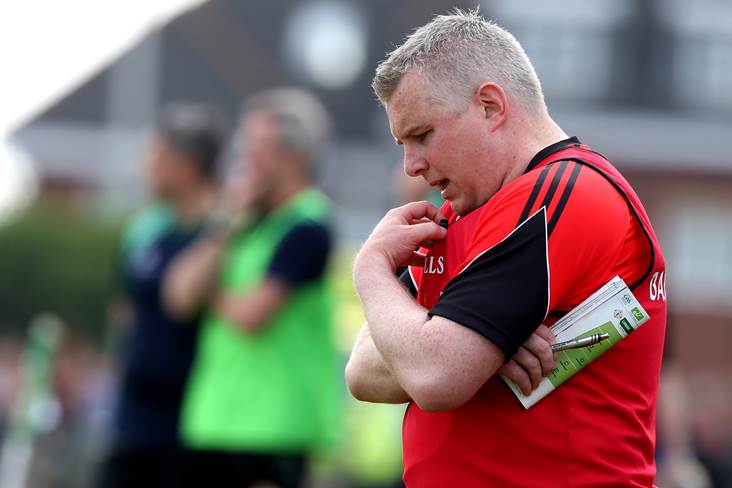 Mayo manager Stephen Rochford.
©INPHO/Gerry McManus.
Stephen Rochford rejected claims that Mayo took Galway for granted ahead of last night's Connacht SFC semi-final.
Mayo surrendered their provincial title as Thomas Flynn's 55th minute goal proved to be the difference between the two sides at the final whistle in Castlebar.
Afterwards, speaking to the Mayo Advertiser, the Mayo manager stressed: "No all our thoughts were on Galway and we prepared very well, you know the accusation may be thrown at us that we had our eyes on something else, but that certainly wasn't the case and I know that if you get yourself in a position to be 0-11 to 0-7 or 0-11 to 0-8 up your eye certainly is on the game.
"On a day when under foot conditions was difficult scoring the goal chances was the difference and you know, bar a half chance that Evan Regan had in the first half, we didn't look like scoring from a chance, nor did Galway until they capitalised on a mistake."
Reflecting on the Galway goal, Rochford remarked: "I think it was a turning point, we lost only two of our own kick-outs and we conceded 1-1 from it.
"At that stage we were three or four points up and in control, but once we conceded that goal Galway got their second breath and they kicked on and scored 1-5 with out reply and we'd no answer to that and we'll have to look at the video and try and answer those questions."
Will Mayo be able to recover from this set-back in the qualifiers?
"Time will tell, but there's a lot of heart in that group, they are very down, some of the guys won't have experienced and evening like this in Connacht, but that's a test of character now and having got to know these guys over the last six months, their shoulders are going to be broad enough to take that one and we'll know more as the summer continues."
Most Read Stories