"It's been incredibly unfair for players"
June 29, 2021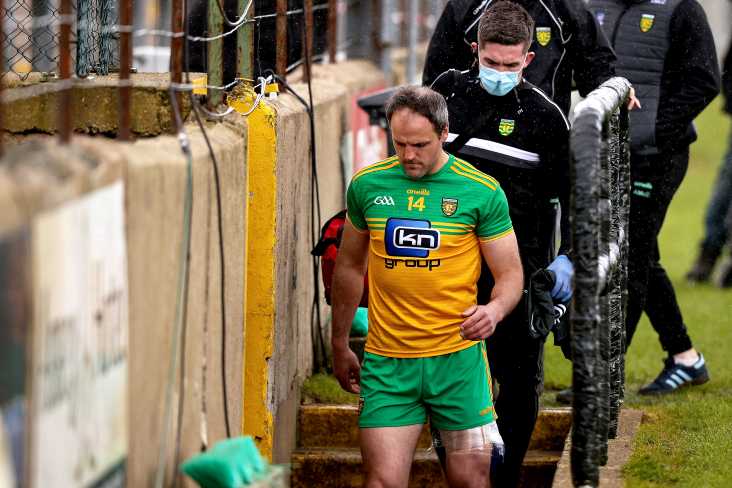 Donegal's Michael Murphy suffered a hamstring injury in the early stages against Monaghan ©INPHO/Tommy Dickson
Former Kerry star Kieran Donaghy has described the GAA's short pre-season as "incredibly unfair for players".
Due to government restrictions in the battle against Covid-19, only four weeks of training were afforded to inter-county football panels with three for hurling squads ahead of the commencement of the 2021 Allianz League.
Donegal's Michael Murphy and Mayo top-scorer Cillian O'Connor have been among the players to have picked up injuries in recent weeks and, speaking to Sky Sports GAA, Donaghy doesn't think it's a coincidence.
"These guys were running straight lines by themselves up and down pitches, to get their miles and their GPS [stats] up. But you can't replicate a player coming at me 100 miles per hour and changing direction, and me having to move my body to go with him," said the Austin Stacks clubman.
"If you're running out to a cone, you're changing direction. That's fine. You know that when you get to the cone, you'll be changing direction. But it's the reaction to people which is where [injuries can occur].
"It's a bit unfair on players. The GAA didn't handle it properly. We should have got more time, everybody should have got more time to [prepare]. It should have been pushed out to six or seven weeks.
"These players, in the middle of the pandemic last year in October and November, put themselves in harm's way. They put their families in harm's way to give us a product, to give us something to watch every week, to give people that outlet at the weekend to cheer on a team. And I think that the kickback to that should have been to ensure that at least for those players, they get a proper amount of time to get ready for a condensed season. That didn't happen and that was wrong.
"It's been incredibly unfair for players."
Most Read Stories