Clare football defender Gordon Kelly retires after 16 years at the top level
December 01, 2020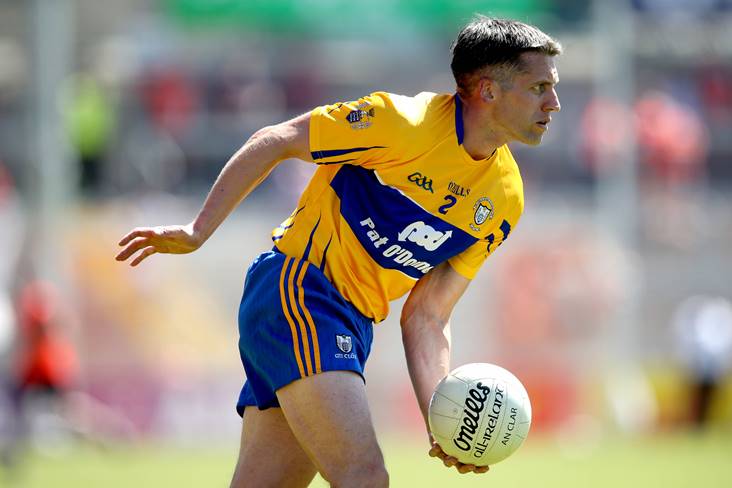 Clare's Gordon Kelly. ©INPHO/Ryan Byrne.
by Paddy Hickey
An era has ended in Clare football with the news that long-serving defender Gordon Kelly has decided to call time on his career with the Banner County.

A player who made his inter-county debut as far back as December 2005, Kelly has informed Clare boss Colm Collins that he intends to focus next year on solely assisting his club, St Joseph's, Miltown-Malbay.
The longevity of the west Clare man's participation at the top level is all the more remarkable given that he never played at minor or under-21 level for his county.
"I got selected for an under-21 trial but I got traded to the other team as they were short, so I never went back again," recalled Kelly, who turned 37 last July.
On his decision to exit the inter-county stage, he said: "I've had a very long and very enjoyable and fulfilling innings with Clare, but it still was not an easy decision for me to make.
"Ideally, I would love to have played with Clare for ever but there comes a time when every player has to make a decision like this, and it's question of your body telling your mind what to do.
"As well as all the years I've been playing with Clare, my wife Nessa and myself have two young children, a boy of three and a girl of eight months, and looking after the pair of them takes up a lot of our time which nevertheless is very enjoyable.
"Speaking of my wife, who used to play camogie with the Corofin club and who played in the All-Ireland Club intermediate final 10 years ago, she has always been very supportive and encouraging to me during my career with Clare.
"And I most certainly would not have been able to play inter-county football for such a lengthy period unless I had this huge amount of backing from her," added Kelly, who made his championship debut in a loss to Fermanagh in the 2016 campaign.
Reflecting on his inter-county career, the veteran ace said: "When I first came into the Clare team we were in Division Four and we stayed in that division for seven years.
"But since then we have made tremendous progress, and it was very satisfying that we eventually moved up to Division Two where we will be playing in 2021 for the sixth successive year.
"As well, in 2016 we qualified for the All-Ireland quarter-finals where we played Kerry at Croke Park, and in last year's championship we only narrowly failed to make the Super 8s, losing by just a point to Meath, at Portlaoise.|
"Probably my fondest memory of my time with Clare was meeting my wife and my son on the pitch after we had beaten Westmeath in last year's the championship at Mullingar."
With regard to disappointments suffered during his career with Clare, Kelly understandably referenced the recent Munster Championship loss to Division Three outfit Tipperary.
"Obviously we were delighted to retain our position in Division Two and we had hoped to have a decent run in the championship," he pointed out on the 2020 campaign..
"Admittedly, we felt it wouldn't be easy against Tipperary as we have had many tough games against them, and they have shown that they are a major force by going on to win the Munster title.
"But still it was more disappointing that on the day we just didn't perform to our full potential rather than the fact that we lost the game."
Most Read Stories