McAvoy says provincial championships shouldn't be de-coupled from All-Ireland
January 13, 2021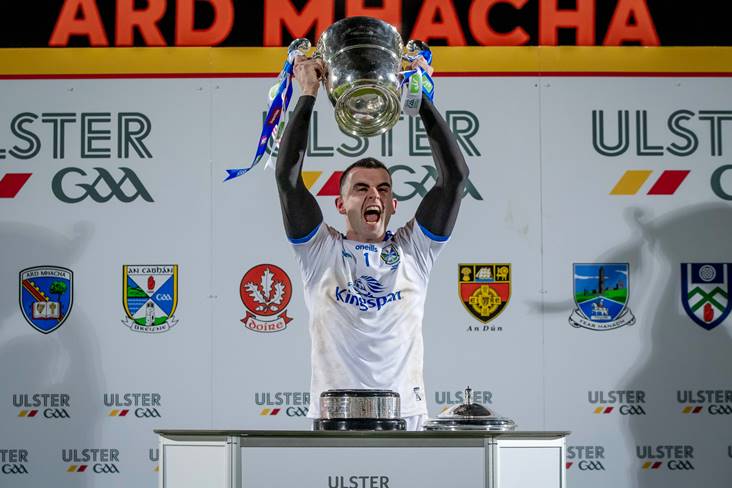 Cavan captain and goalkeeper Raymond Galligan lifts the Anglo-Celt Cup. ©INPHO/Morgan Treacy.
Ulster GAA Secretary Brian McAvoy in his 2021 Annual Report says he is against any move to play an All-Ireland championship that does not include the provincial championships.
The Fixtures Task Force has put forward options to be discussed on how the All-Ireland SFC should be run off in the future. One option would see the provincial championships played but then a separate All-Ireland SFC competition start after the Leinster, Munster, Ulster and Connacht SFC have concluded.
McAvoy feels that the provincial competitions would be devalued in that format and could end up becoming irrelevant.
The Ulster Secretary says the fate of the Ulster SHC competition is case in point.
"I have previously expressed my opposition to the de-coupling of the provincial championships from the All-Ireland series," writes McAvoy. "Doing this would devalue the provincial championships and counties would undoubtedly use them as preparation for the forthcoming League/Championship.
"As evidence you don't have to look any further than the now defunct Ulster Senior Hurling Championship – during the 1990's and 2000's it was a competitive competition with Antrim, Down and Derry all enjoying success.
"However, when it became de-coupled from the Liam McCarthy Cup series it effectively lost its prestige and was no longer treated with the same relevance by players and supporters alike.
"I fear the same would happen the Ulster Senior Football Championship if this proposal was to be adopted."
Most Read Stories