O'Gorman on comeback trail
January 29, 2010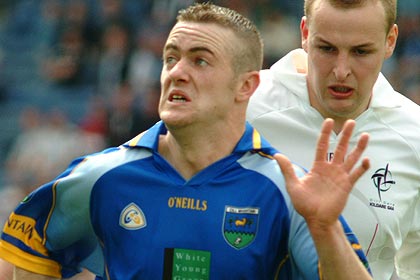 Wicklow's Wayne O'Gorman
Former Wicklow dual star Wayne O'Gorman is well on the way to making a full recovery from a career threatening knee injury sustained two and a half years ago.
O'Gorman suffered the horrific injury when he was playing for Ashford in a relegation match against An Tochar at the end of the 2007 season and he has been out of action since.
Last week, O'Gorman underwent a four-hour operation to repair the shattered ligaments in his knee and he is hopeful that the operation will have him fit to resume his career next season.
"Recovery will be a slow process but hopefully everything will come back right and I will be able to resume my playing career again next year. It will all depend on how well I will rebuild the strength in my leg," said O'Gorman.
"I would hope at least to be able to resume playing hurling again but we will have to wait and see if I will be able to kick a football with my foot."
Most Read Stories