New road named after Jimmy Doyle
April 05, 2012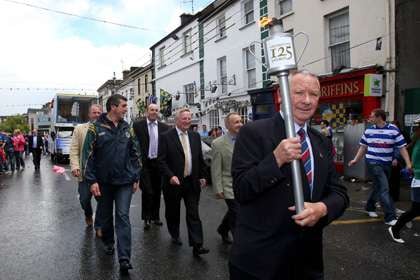 Former Tipperary player Jimmy Doyle carrys the torch to Semple Stadium during the 125th Anniversary Celebrations.
Tipperary legend Jimmy Doyle is honoured to have a road named after him.
Doyle, who won six All-Ireland senior medals with the Premier County was present at the opening of the new links road, which will be called Jimmy Doyle road. The road links the Nenagh road and the Templetouhy road.
The former Tipp hurler arrived at the official opening ceremony in a vintage car draped in the Thurles Sarsfields' colours and admitted that he was thrilled to be the recipient of such an accolade.
"This is the biggest tribute I could ever get," Doyle told the Tipperary Star. "I want to thank the council for giving me the opportunity of having a road named after me."
The event was attended by members of Doyle's family and close friends, while Junior Minister for Transport Alan Kelly was also in attendance along with other dignitaries.
Most Read Stories