SFC: Dunshaughlin win battle of survival
September 12, 2017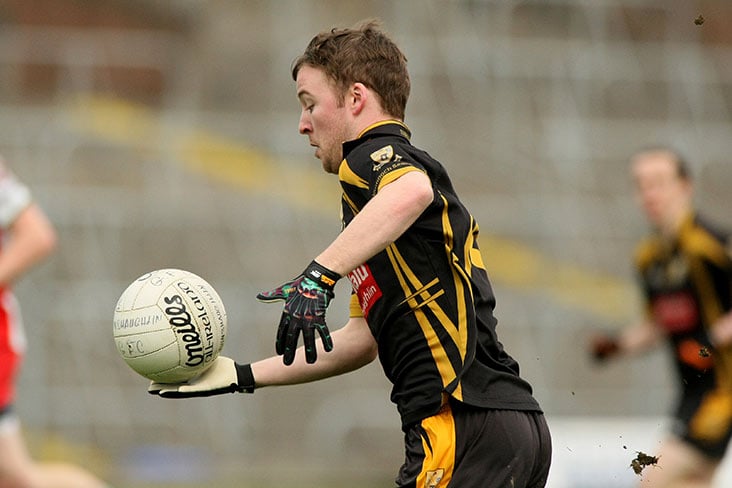 Dunshaughlin's Cathal O'Dwyer
Dunshaughlin 2-14
Skryne 1-11
What a game. This do or die match, played in Trim between these close neighbours was always going to be fiercely contested.  Conditions didn't help either team. 
Despite the elements Dunshaughlin started well with points from Cathal O'Dwyer after excellent build up play from Ben Duggan and Tadhg Delaney. Niall Byrne kicked an excellent score for Dunshaughlin after some excellent work to win the ball and get away from his marker.
However the game swung in Skryne's favour. David Gough showed Skryne midfielder Ciaran Lenehan a straight for an altercation with Johnson. This seemed to propel Skryne to a new level and they completely outplayed Dunshaughlin for the remainder of the half. Fergus Toolan was shown a black card and Dunshaughlin were really struggling. A long ball into the square, somehow made it's way into the net and Skryne were 12 points ahead. More points then followed.  When a goalkeeper was scoring sidelines, it was looking like a bad day for Dunshaughlin. However they got a lifeline on the stroke of halftime. Good play from Delaney up the wing, saw a one two played with himself and O'Dwyer with the corner forward being fouled by a combination of 5 Skryne players. The penalty was converted. Dunshaughlin trailed by 9 at the break.
As the weather pounded Trim at the break, the Dunshaughlin players remained calm in the dressing room. He was worried it was all over for Dunshaughlin. The black and amber men flew out of the traps in the second half. They dominated around the middle. They won all the dirty ball. They disposed Skryne numerous times. There was a bite in their play that Skryne couldn't handle. The scores came for Dunshaughlin and they didn't stop. Niall Murphy, Delaney, Ray Maloney, O'Dwyer and Michael Ahern got on the scoreboard. It was a powerful second half display. The strength of the panel really came to the fore.
Jack Hetherington, Trevor Dowd, Adam Kealy, Ron Geraghty, Eoin Hagarty and Mark Devaney all played a part. The final whistle went and Dunshaughlin had won on a scoreline of 2-14 to 1-11. A 15 point turnaround. Wind doesn't win games, hard work does and that's exactly what Dunshaughlin did in the second half.
Dunshaughlin - A. McDermott, A. Doyle, C.King, D. Ormsby, D. Dunne, M. Ahern (0-1), T. Delaney (0-3), J. Crimmins, B. Duggan, N. Byrne (0-1), T. Johnson (1-0), R. Maloney (0-1), N. Murphy(0-1), F. Toolan, C. O'Dwyer (1-7). Subs: A. Kealy, T. Dowd, J. Hetherington, R. Geraghty, M. Devaney, E. Hagarty
Most Read Stories