SFC: Seneschalstown remain unbeaten
September 24, 2016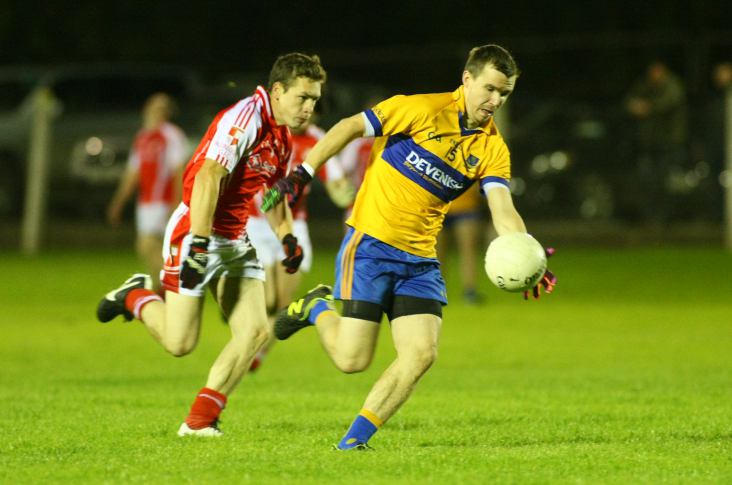 Seneschalstown's Bryan Clarke
Seneschalstown 0-10 Ballinlough 0-09
At the second time of asking this year Seneschalstown played a Hoganstand.com Meath SFC game under the newly installed floodlights in Castletown.  In truth the only illuminating aspect of the game which never truly reached the intensity normally associated with Championship football was the floodlights. In a game which had no bearing on where either team would finish in the group, Seneschalstown were already guaranteed top spot and Ballinlough getting ready for their upcoming relegation battle, the main objective for both sides must have been to get through the hour with no fresh injuries collected.  
To this end, for Seneschalstown at least it was mission accomplished with the added factor of the victory maintaining their 100% record in the Championship to date.  Focus for the team now switches to the knockout stages of the competition where they will play in the quarter finals for the first time since their defeat to Rathkenny after extra time in 2013.  
With nothing on the line for either side the attendance won't have done much to swell the coffers of the Co. Board and indeed this may have been a contributory factor to the dead nature of the match as there was very little atmosphere generated throughout, it's never a great sign when those shouting in the stand are clearly identifiable on the far sideline.  
The Seneschalstown men came out of the blocks like they wanted to get the job done early and by the eighth minute had forged into a three point lead through a brace of points from Bryan Clarke and a Brian Sheridan effort.  This early momentum stalled somewhat for them thereafter with a fourteen minute scoreless spell following during which time Ballinlough moved into a one point lead with Kevin Devine showing that his radar was finely tuned as he landed four frees in a row.  
Brian Sheridan pulled out an equaliser as he landed a free following a foul on Joe Sheridan when the midfielder was letting the ball in long but another pointed free from Devine nudged Ballinlough ahead once more on twenty-four minutes, Adam Gleeson picking up a yellow card for the foul.  The aforementioned Gleeson equalised a minute later when after Brian Sheridan had partially blocked down a Ballinlough kickout, Gleeson reacted quickest to the loose ball, exchanged a one-two with Jonathan Gilsenan and drove over.  
Seneschalstown almost got a major approaching half time but when played in on goal following good play from Gilsenan, Niall Groome and Brian Sheridan, Bryan Clarke saw his goal effort ricochet off the 'keeper's legs and over the crossbar.  There though was still time for one more score as the Ballinlough full forward Tommy McCullen became only his sides second scorer of the game and their first from play when he pointed in injury time to leave the sides tied at 0-06 apiece at the interval.  
Just like in the opening period, Seneschalstown were first to register a score in the second when the Gilsenan, Gleeson axis linked up down the right flank before Johnny Gilsenan popped over a point.  Now playing into the freshening breeze, Ballinlough's response was impressive as they kicked the next two points through two more Devine frees.  A Bryan Clarke point after he raced onto a long ball from a free drew Seneschalstown level once more but Ballinlough responded well when their centre back, Lorcan Maguire, drove over a forty-five from the right of the uprights.  
A long distance point from Joe Sheridan and another point from Clarke after excellent work from Cormac Noonan, Gilsenan and Damien Sheridan was actually the only score of the final quarter and proved to be enough to see Seneschalstown scrape home by the bare minimum.  A classic it wasn't but with victory attained it was a case of mission accomplished for the Boynesiders.  
Seneschalstown:  David Lyons, Paul Carey, Cormac Noonan, Colin Gleeson, Teean Cummins, John Smith, Niall Hickey, Joe Sheridan (0-01), Damien Sheridan, James Byrne, Brian Sheridan (0-02, 0-02 Frees), Niall Groome, Jonathan Gilsenan (0-01), Adam Gleeson (0-01), Bryan Clarke (0-05, 0-01 Free).
Seneschalstown Substitutions:  Adam Carey for Cummins, James Conlon for A Gleeson, Stephen Finnegan for J. Gilsenan.
Ballinlough:  Lorcan Gibney, Benji Smith, Michael Geraghty, Robbie Farrell, Emmett Smith, Lorcan Maguire, James Baugh, Derek Muldoon (0-1 45), Gary Reilly, Kevin Byrne, Ronan McGuinness, Padraig Muldoon, Colm Mallen, Tommy McCullen (0-01), Kevin Devine (0-07, 0-07 Frees).
Ballinlough Substitutions:  Junior Reilly for P. Muldoon, James Higgins for L. Maguire, Padraig Muldoon for Derek Muldoon.
Most Read Stories