SFC: Seneschalstown full value for their victory
May 14, 2016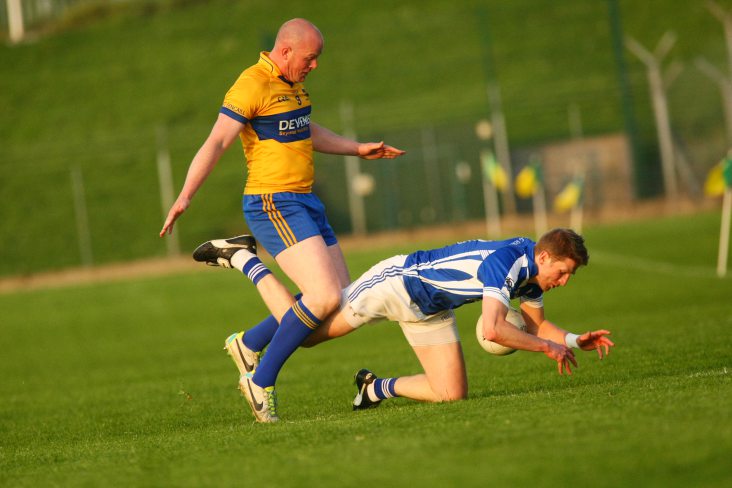 Seneschalstown's Joe Sheridan with Aidan Tuite Skryne during the hoganstand.com Meath SFC game at Pairc Tailteann
Seneschalstown 2-15 Skryne 0-15
A sparsely populated Páirc Tailteann can be a very hard venue to generate an atmosphere in but as the clock ticked towards the hour mark on Friday evening there was plenty of buzz among the Seneschalstown supporters in the old stand as they showed their appreciation of every point added by the Devenish Nutrition sponsored side.  Quite why the crowd was so sparse is a question for another day but it's something that needs to be looked at as it suggests the interest in attending matches is waning.  
A victory for the Yellow Furze side didn't look likely early on as they appeared to be on course for a lesson such was their sluggish start and the very bright beginning made to the match by Skryne in comparison.  To the credit of the Seneschalstown side they kept plugging away after their sluggish start and gaining a foothold around the middle of the field they began to work their way into proceedings and by the end were full value for their victory.  
It took just eleven seconds for Skryne to get the first score of the game when after winning the throw in, county star Harry Rooney burst through the middle before laying the ball off to Brian Davis who was supporting on his left and the young forward made no mistake as he pointed.  Davis added his second in the second minute before Mark Battersby capitalised on a Conor Cowley mistake to point.  Skryne's great start continued when Meath goalkeeper Paddy O'Rourke drove over a wind assisted fifty-three metre free.  Right half forward Conor O'Brien stretch the Skryne lead to five points after seven minutes and in truth it was totally deserved as they were dominating in every facet of the match.  
Seneschalstown were in desperate need of a score of any description to garner them any sort of a foothold in the game and after Jonathan Gilsenan saw his point effort deflected out for a forty-five, Bryan Clarke stepped up to take the kick and sent it straight between the posts.  Mark Battersby brought the Skryne lead back out to five points when he pointed on ten minutes but Clarke cancelled this score out when he knocked over a twenty-one metre free after a Skryne defender was penalised for handling the ball on the ground.  Seneschalstown were now beginning to settle into the match and Cormac Noonan was enjoying a fine tussle with Paddy O'Rourke.  
Noonan was to have a central role in the next score when he won his battle with O'Rourke to gather possession.  The ball was played to Joe Sheridan whose searching delivery found Bryan Clarke who pointed.  Clarke added a free on twenty minutes, a free which was earned by tenacious tackling from his forward colleagues before he lit up the venerable old ground with a smashing goal.  Paddy O'Rourke's point effort dropped just short, enabling David Lyons to field under his crossbar and when the ball was played out to Joe Sheridan he, looking up spotted that Bryan Clarke and Jonathan Gilsenan were isolated two on two inside the Skryne half.  Sheridan dropkicked upfield into the teeth of the wind and rising highest Gilsenan plucked the ball out of the sky before offloading to Clarke who skinned his opponent as he carried at pace towards the goal at the O'Mahonys end of the field before unleashing a rocked of a shot past Ian Gillet to raise the first green flag of the game.  
The lively corner forward soon sent over a forty-five metre free from the right of the posts after Brian Sheridan was held back but this was to be Seneschalstown's last score of the half as Skryne found their way again.  David Lyons pulled off a stunning save from a Mark Battersby goal effort before Meath Minor captain Darragh Campion sent over in the twenty-seventh minute before a trio of points from the lively Battersby, one from a free saw the Tara outfit move back into the lead on a 0-10 to 1-05 score when Cormac Reilly sounded the half time whistle.  
Having played into the wind in the first half Seneschalstown will have been quietly satisfied to be only two points in arrears but there will have been concerns at this point of the match that their only player to trouble the umpires was Bryan Clarke who was enjoying another superb outing at corner forward.  While both teams went in to regroup at the break in play, those in attendance were treated to a wonderful display of football as the U-8 players from Seneschalstown and Skryne took to the field to show off their skills in two very entertaining half time matches.  
The last of the juvenile players hadn't gotten back to their seats by the time Cormac Reilly had started the second half but just as they had in the first half it was Skryne who started the stronger.  Paddy O'Rourke sent over a left footed free before on thirty-three minutes he added another score from play.  Seneschalstown brought the gap between the sides back to three points when after having his heels accidentally clipped as he ran onto an Adam Carey pass, Bryan Clarke curled over a free.  
Mark Battersby extended that lead back out to four points for Skryne before in the forty fourth minute Damien Sheridan became only the second Seneschalstown player to score when he curled over after being placed for the effort by the hard working full forward Niall Groome.  Damien's partner in the midfield engine room, Joe Sheridan then added his name to the list of scorers when after Adam Carey showed quick reactions to intercept a stray free, he picked out the team captain who soloed forward to point from forty metres.
With the game well and truly in the melting pot the Seneschalstown management team beckoned Stephen Finnegan from the dugout and sent him on for his first appearance in the Senior Championship for a few years.  Every substitute looks to make an instant impact but few can have had one quite as instantaneous as Finnegan.  Only on the field of play a few seconds when Damien Sheridan looked up from the right hand side, Sheridan picked out Finnegan on the edge of the square.  Stephen rose highest but upon landing lost his footing and so the goal scoring opportunity appeared to be lost.  Not so!  He managed to pull on the loose ball and send it past the despairing Ian Gillet and send Seneschalstown back into the lead, 2-08 to 0-13.  
Brian Davis pointed in response to leave just a point between the teams with thirteen minutes of the regulation hour remaining but Seneschalstown had now found their mojo.  Brian Sheridan, operating on the edge of the square in a switch with Niall Groome did well to send over a left footed point before on fifty minutes, right half forward Niall Hickey added his name to the list of scorers.  Groome did well to get his paws on the ball in the middle of the field and under pressure he offloaded to Joe Sheridan.  Joe picked out Brian Sheridan who in turn found the supporting Hickey who clipped over.  Brian Sheridan then added another as he grew more and more into the match.  James Byrne who enjoyed a super match at centre back won the ball with an outstanding tackle, picked out Adam Carey who carried forward before passing to Joe Sheridan who fed his younger brother who scored.  
Niall Groome then sent over a monster effort from out on the right which seemed to hang in the sky for an age before dropping over the blackspot and then Bryan Clarke pointed from play to push Seneschalstown into a five-point lead.  Conor O'Brien pointed in response but the irrepressible Clarke sent over two more points in stoppage time.  His first came from a tap over free after Adam Carey was shouldered in the back and then he sent over from play after good play from Brian Sheridan.  Skryne kept battling away and got in for a goal scoring opportunity only for David Lyons to pull off another sublime save, this time with his right hand to once more deny Mark Battersby to keep his goal intact.  
This victory leaves Seneschalstown on four points with two wins from two and they can now look forward to a Round 3 game against Gaeil Colmcille with some anticipation.  All over the field they had players who showed excellent form but in particular David Lyons with his two brilliant saves, James Byrne, Joe and Damien Sheridan as well as Bryan Clarke enjoyed excellent outings while Conor Cowley did a fine job on Mark Battersby once switched onto him as the clock ticked towards half time.  Next up for them is their Round 7 game in the A League Division 1 when they host St. Peter's Dunboyne on Saturday May 21st in Fr. Tully Park.
Seneschalstown:  David Lyons, John Smith, Cormac Noonan, Sean McCabe, Teean Cummins, James Byrne, Conor Cowley, Damien Sheridan (0-01), Joe Sheridan (0-01), Niall Hickey (0-01), Brian Sheridan (0-02), Adam Carey, Jonathan Gilsenan, Niall Groome (0-01), Bryan Clarke (1-09, 0-01 '45, 0-05 Frees).
Seneschalstown Substitutions:  David Matthews for T. Cummins, Stephen Finnegan (1-00) for J. Gilsenan.
Skryne:  Ian Gillet, Niall Lenehan, Mark Harrington, Mark Jordan, Declan Morley, Ciaran Lenehan, Stephen O'Brien, Harry Rooney, Aidan Tuite, Conor O'Brien (0-02), Paddy Fox, Brian Davis (0-03), Darragh Campion (0-01), Mark Battersby (0-06, 0-02 Frees), Paddy O'Rourke (0-03, 0-02 Frees).
Skryne Substitution:  John Morley for S. O'Brien (bc).
Skryne Report
Bad night for the Blues

Seneschalstown 2-15 Skryne 0-15

Goals win games. This old saying was never more true than in this game in Pairc Tailteann this evening especially as the two conceded by Skryne came as a result of unforced errors (as the commentators might say of tennis matches).
Skryne began the match very well and raced into a five points to no score lead after ten minutes against a much more physical Seneschalstown  team. But then the Yellow Furze men, who were allowed field with Damien Sheridan in midfield even though he got a straight red card in the previous round, came much more into the game. It was big Damien's brother Joe who seemed to call all the shots and his encouragement and guile from midfield set up many scores for the winners. They scored a goal and four points to take the lead after 20 minutes but Skryne to their credit fought back and led at the break by 0-10 to 1-5. The Seneschalstown  goal coming all the way from their goalie who had gathered a ball which dropped short and after two Skryne defenders went for the same ball it broke nicely for the corner forward to blast to the net. Four of Seneschalstown's five first half points came from frees - two of which were of the 'soft' variety but ultimately it was Skryne's 'set piece play' all over the field which led to their downfall. Free kicks were taken much too slowly and indecisively- and three scorable ones kicked wide.
The second Seneschalstown  goal after half time put them back in front after Skryne had again began this half well with two Patrick O'Rourke points putting them four in front. Leading 0-13 to 1-6 when disaster struck again. The goal coming from a Skryne kick out which was gathered out on the wing by Seneschalstown  and when kicked back in ended up in the net after a mix up in the Blues defence. It was a lead they held to the final whistle.
There were some excellent points taken by both sides- Skryne scored ten in the first half while Seneschalstown  hit ten in the second. Mark Battersby had a great first half scoring five of those points for the Blues and it was baffling to see him having to roam outfield in the second period when the inside forwards were starved of possession.
In defence Stephen O'Brien had an excellent game for Skryne, particularly in the first half, and it was a shame to see him 'black carded' when yellow seemed more appropriate.

Skryne - Ian Gillett. Niall Lenehan, Mark Harrington, Mark Jordan. Declan Morley, Ciaran Lenehan, Stephen O'Brien. Aidan Tuite, Harry Rooney. Conor O'Brien (0-2), Paddy Fox, Brian Davis (0-3). Darragh Campion (0-1), Mark Battersby (0-6), Patrick O'Rourke (0-3). Sub. - John Morley.
Most Read Stories