SFC: 'Hill comeback downs Blackhall
May 02, 2011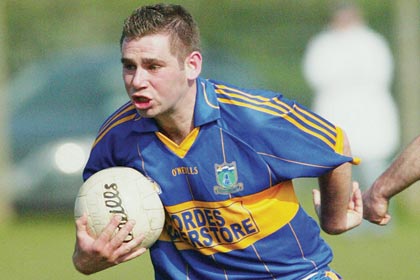 Summerhill's Brian Ennis
Summerhill 0-13
Blackhall Gaels 0-11
Summerhill overturned a three point half time deficit to defeat Blackhaall Gaels in this SFC tie.
The Batterstown/Kilcloon side led by 0-7 to 0-4 at the short whistle but Summerhill, with Brian Ennis in excellent scoring form, posted nine second half points to run winners.
Summerhill. Tony McDonnell, Davy Dalton, Caolan Young, Willie Ryan( 0-01), Stephen Husband, Richie Hatton, Michael Gorman, Paul Comey, Micheál Byrne ( 0-01) 1f,, David Larkin ( 0-01), Adrian Kenny ( 0-03) Bobby Lyons, Paul Rispin, Brian Ennis ( 0-05 ) 5f, Sean Dalton ( 0-02). Subs: Alan Lyons for Stephen Husband, Conor Gillespie for Paul Rispin.
Junior A Championship;
Summerhill 3-05
St Brigids 1-09.
HT Summerhill 1-01 St Brigids 0-05.
Summerhill: Robbie McDonnell, Eamon O Shea, Ciaran Malone, Kevin Lyons ( 1-0) Cathal Ennis, Declan Lyons, Daniel Larkin, Mark Ganno ( 1-0) Padhraigh Geraghty,Ross Tallon ( 0-02) Jeremy Ennis Justin Ennis, Declan Bruton, Gary Rispin ( 1-02 ) Gary McDonnell. Subs: Brian Rispin ( 0-01) for Declan Bruton. Cathal Byrne for Gary McDonnell
Most Read Stories