Higgins says Mayo are benefitting from early championship exit
February 12, 2019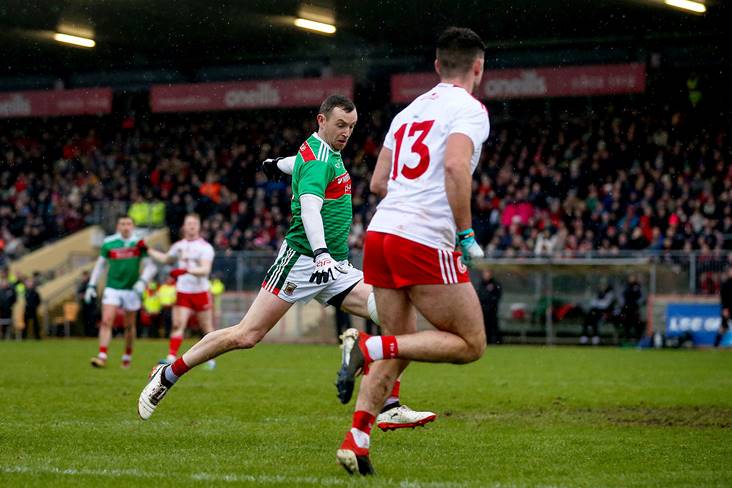 Mayo's Keith Higgins scores a goal against Tyrone. ©INPHO/Tommy Dickson.
by Daragh Small
Mayo four-time All Star Keith Higgins says the long break that followed his county's exit from last year's championship has rejuvenated the squad under James Horan.
Mayo are top of Division 1 in the National Football League after their 1-13 to 0-11 win over Cavan at MacHale Park in Castlebar on Saturday evening.
Following on from their impressive victories against Roscommon and Tyrone, Mayo have now put three in-a-row at the start of the league for the first time since 2006.
Kildare knocked Mayo out of the championship on 30 June last term, and the 33-year-old Ballyhaunis defender says the squad is fresh and confidence is flowing under new management.
"When James came back he was eager, all the boys were eager with the way last year finished," said Higgins.
"That has a lot to do with how we started. The long break meant lads we're a bit fresher. It's just looking forward trying to get each win as we can, and seeing where it takes us.
"You have to look at where we are coming from this year, and where other teams are.
"Other years we finished up in September, October, had a few rounds with the club and then trying to get four or five weeks off.
"We have been off since July with Mayo, finished up a lot earlier with the clubs. It has been a very long break and the lads were eager to come back.
"But happy with three from three, it's six points on the board. It's the first time we have done that in a good few years. You have to be happy.
"Once you are winning games you are happy."
Mayo dominated Connacht during Horan's reign between 2011 and 2014, they won their fifth provincial crown in a row under Stephen Rochford in 2015 but haven't been champions since.
And even though they look safe in Division 1 for another year, Higgins says the league is still number one priority before Mayo clash with reigning All-Ireland Dublin on 23 February.
"You still have to be looking to win games rather than just saying we are safe," said Higgins.
"We look at the next game, we are looking to get more points on the board. There is no point in saying we are safe on six. We have seen teams go down on six before.
"It's all about getting the next win and seeing what happens after that.
"Dublin are beatable but you have to be realistic where these teams are at. Tyrone and them are probably not long back. A few hard years on the road.
"Up in Croke Park it's a great test but we will look forward to it and see what happens.
"A team like Dublin, you can always see they come on week on week. After losing two games they will want to get a few points on the board.
"It's going to be a huge test in the big wide-open spaces of Croke Park. It will test both teams."
Most Read Stories