Goggins hails squad strength
October 11, 2018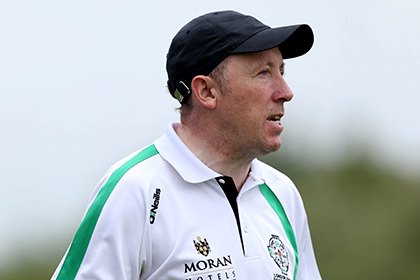 London manager Paul Coggins. INPHO
Tir Chonaill Gaels manager Paul Coggins is pleased with the strength in depth of his squad this year.
The 15 times county champions brushed aside the challenge of North London Shamrocks in last weekend's semi final and they now face defending champions Fulham Irish in a repeat of last year's final.
Tir Chonaill Gaels have lost the last two consecutive finals and this will be their seventh consecutive final, winning on three occasions.
Coggins told the Irish Post that the strength of the squad is very pleasing as they prepare for yet another county final.
"We had Mark Gottsche back, but the best compliment I could pay the side is we didn't miss him as much as you would think," said Coggins.
"We have a lot of players who can come in and make a difference. It's great to have those options. It's going to be a fight for positions going into that final now against Fulham. There's nothing secured, a lot of people are putting their hands up and that's what you want to see."
There are fifteen county finals taking place this weekend with ten of those in football. Join our match tracker on Sunday afternoon for live updates from around the county grounds.
Most Read Stories