At last: a SHC medal after 31 years of trying!
August 12, 2014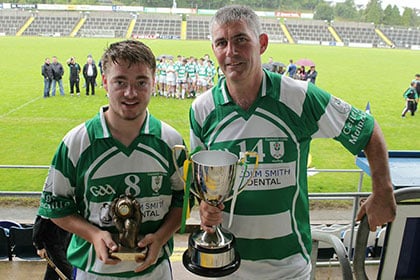 Man of the Match Joshua Crowe with Cootehill Celtic captain Aidan Fitzpatrick and the Eddie Brady Cup at Breffni Park.
At his 31st attempt, Cavan man Aidan Fitzpatrick has finally got his hands on a coveted senior hurling championship medal.
Fitzpatrick starred on the Cootehill Celtic team that defeated Ballymachugh by 5-7 to 1-6 in Sunday's Cavan SHC final at Breffni Park, bringing to an end his three-decades-plus quest for glory.
The 47-year-old - who captained his club to the Eddie Brady Cup from full forward - broke onto the Cootehill first team as a 16-year-old and has been striving to win a championship with the club ever since.
Only one other member of the all-conquering panel was born when Aidan made his senior debut for the club in the early '80s.
No doubt the unprecedented long wait made Sunday's success all the sweeter!
Most Read Stories