Ryan is latest Cat to retire
January 19, 2012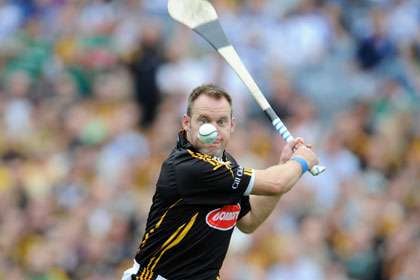 Kilkenny keeper PJ Ryan
PJ Ryan has followed his Kilkenny team-mates Eddie Brennan and James 'Cha' Fitzpatrick into inter-county retirement.
The 34-year-old Fenian's clubman, who joined the squad in 2002 and was originally understudy to James McGarry, won seven All-Ireland medals, nine Leinster championships, five National Leagues and an All Star in a glittering career. He played a number of National League games last year before losing his place to impressive newcomer David Herity for the championship.
"I arrived with nothing but hope, and I left with a pocketful of medals. I was blessed to be part of Kilkenny hurling during a golden era," the Fenians (Johnstown) clubman told the Kilkenny People.
Ryan's best performance for the Cats was arguably against Tipperary in the 2009 All-Ireland final when he produced a string of brilliant saves to help them to the four-in-a-row.
"I worked especially hard during the weeks leading up to the 2009 All-Ireland final," he remembers.
"I spent so much time working in the hurling field in Johnstown and in the ball alley with my father (ex-Kilkenny goalkeeper PJ Ryan snr) that he was nearly ready to make a return to hurling."
PJ Snr won three All-Irelands as sub goalie to the great Noel Skehan in 1974, '75 and '79.
Most Read Stories