Ring Cup: holders beaten by Roscommon
May 12, 2019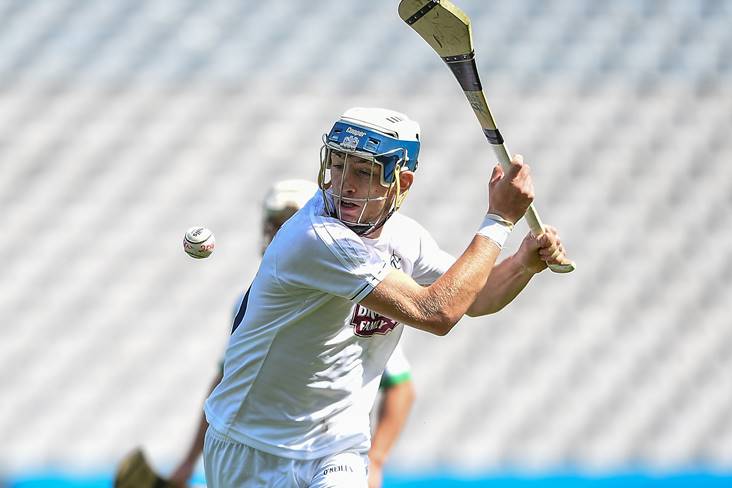 Kildare's Jack Sheridan.
©INPHO/Tommy Grealy.
Kildare's defence of the Christy Ring Cup opened with a 1-15 to 0-20 loss to Roscommon in Athleague this afternoon.
The hosts held a slender 0-8 to 0-7 lead at the break, but the Lilywhites had regained parity before Jack Sheridan's goal propelled them into a 1-13 to 0-13 lead with nine minutes remaining. They were still two points up after 68 minutes, but the Rossies scored the last four points to claim the win.
At Pairc Tailteann, Meath romped to a 2-23 to 0-13 victory over London. The game was ended as a contest in the 22nd minute when Alan Douglas' goal made it 2-9 to 0-3 in favour of the Royals.
Meanwhile, Wicklow came away from Letterkenny with a 4-12 to 1-15 victory over Donegal. Gary Hughes was the Garden County hero with a hat-trick of goals, while Jonathan O'Neill grabbed a fourth near the end.
Roscommon - N Fallon (0-1f); P Nolan, P Kenny, H Rooney; C Coyle, P Kellehan, A Moore; D Heavey (0-1), S Curley (0-1); G Keenan, P Kelly (0-3), N Connaughton; G Egan, C Egan (0-1), C Dolan (0-12, 11f). Subs: C Mulry (0-1) for G Egan, E Kenny for N Connaughton.
Kildare - P McKenna; N O Muineachain (0-1), D Cahill, J Dolan; R Boran, R Kelly, A Kelly; J Travers, K Whelan (0-2); J Gorman (0-1), B Byrne (0-8, 7f), J Burke; C Dowling, M Fitzgerald (0-1), J Sheridan (1-2, 0-1f). Subs: M Delaney for C Dowling, C Derivan for R Kelly, P Kennedy for J Gorman, G Johnson for J Travers.
Referee - M Murtagh.
**
Meath - S McGann; G Murphy, D Kelly, S Whitty; S Brennan, K Keoghan, J Kelly (0-3); S Geraghty, C McCabe; D Healy (0-1), P O'Hanrahan (0-1), J Regan (0-12, 7f); G McGowan, E O Donnacadh (1-4), A Douglas (1-1). Subs: A Gannon for A Douglas, C O'Sullivan for G McGowan, S Morris (0-1) for S Geraghty, C O Mealoid for P O'Hanrahan, J McGowan for A Gannon.
London - P Buckley; D O'Regan, P Muldoon, L Murphy; K Burke, K Reid (0-1f), S Conlon; O Royston, J Kennedy; C Nelson (0-1), S Lohan, M O'Dwyer (0-2); A Sheehan (0-7, 6f), B McGarry, D Nolan (0-1). Subs: F Collins for D O'Regan, S Lawless (0-1) for M O'Dwyer, C Thornton for C Nelson, J Byrne for S Lohan, B Hickey for O Royston.
Referee - N Wall.
**
Wicklow - C McNally; G Byrne (0-1), B Cuddihy, M O'Brien; W Kavanagh, S Kelly, E Kearns; J Henderson, J Doyle; E McCormack, E Byrne (0-1), D Staunton; C Moorehouse (0-6, 5f, 1'65), R Keddy (0-3), G Hughes (3-0). Subs: R Byrne for J Doyle, J O'Neill (1-1) for E Byrne, L Evans for R Keddy, C O'Braoin for G Byrne.
Donegal - P Burns; C Parke, C McDermott, M Callaghan; J O'Loughlin (0-1), S McVeigh (0-1), S Gillespie; J Boyle, D Cullen; R McDermott, C Matthewson (0-5, 3f), C Finn; G Browne (0-1), L Henderson (1-6, 0-5f), D Duffy (0-1). Subs: C Flood for C Finn, R Hilferty for L Henderson.
Referee - S Hynes.
Most Read Stories