Westmeath footballer Ray Connellan gets second chance to resurrect his Aussie Rules career
December 07, 2018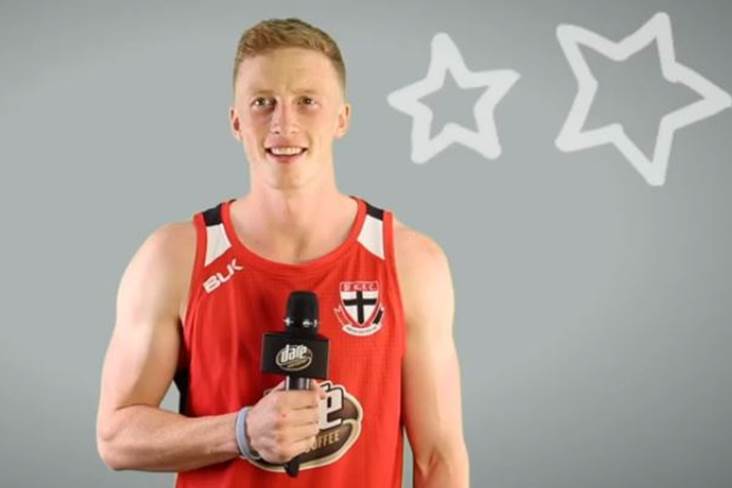 St Kilda's Ray Connellan sings Mr Brightside!
By Paddy Hickey
Westmeath footballer Ray Connellan has been thrown a dramatic lifeline to resurrect his Aussie Rules career.
In the wake of spending two years as a Victoria Football League (VFL) player with St Kilda, Connellan suffered the bitter disappointment of being released by the Melbourne outfit last August.
But the Athlone man was only home for about a month when he received an offer from the Essendon club to link up with them on a year's contract.
And after giving the matter some considerable thought, the 24-year-old has now decided to return Down-Under in an attempt to establish himself in the Aussie Rules code and improve on the situation where he never managed to break into the St Kilda first team and experience AFL playing action.
"Over the last two months or so, I've talked things over with my family and my close friends before making up my mind one way or the other," revealed Connellan, who featured in approximately "40 VFL games" during his stint with St Kilda.
"And I have now decided that it wouldn't make sense for me not to avail of this great opportunity, as I have already invested a lot of time and effort in an attempt to establish myself in Aussie Rules.
"I think no matter how things work out for me, it's a winning situation, If I manage to break into the Essendon first team it would be great, and if I don't succeed in doing that, I'll come back home after the year and go to college.
"So I'll be heading back to Melbourne around mid-January, and that will give me around two months of training and preparation before the VFL season starts up in March.
"And it's a big bonus for me that since coming home in August I've been keeping in very good shape, as a result of a training programme that St Kilda provided me with," added Connellan, who made his senior debut for Westmeath when only 18 years of age.
Interestingly, Connellan revealed that officials of the Essendon club informed him they were very surprised that he had been released by St Kilda.
"The Essendon lads felt that the decision taken by St Kilda was very premature and that I should have been given more time to prove myself in Aussie Rules," he pointed out.
"So it was very heartening, encouraging and great for my confidence to hear that after the massive level of disappointment I felt when I was informed by St Kilda that they were not prepared to offer me an additional contract.
"Actually, one of my best mates, Conor McKenna from Tyrone, plays with Essendon (on a four year contract from 2017) and he was able to pass on to the club people all my contact details.
"Once Essendon had that information, they got on to me straight away, and over the last few months there has been a lot of email and skype exchanges between them and myself.
"I first met Conor McKenna when we were over in Australia on a trial in early 2016 and since then we have become very good friends.
"So it will be great to have Conor as a clubmate when I join up with Essendon next month," added Connellan, who played three games for Athlone in this year's Westmeath Championship, including a quarter-final reverse to local rivals Garrycastle.
In the wake of the 2016 Aussie Rules trial, Connellan lined out with Westmeath in the Leinster Championship that summer, including the provincial final loss to Dublin during which he had the misfortune to suffer a broken leg.
But he had sufficiently recovered to join up with St Kilda in November of that year.
Most Read Stories