Fixture details for 2019 Connacht football championships
December 12, 2018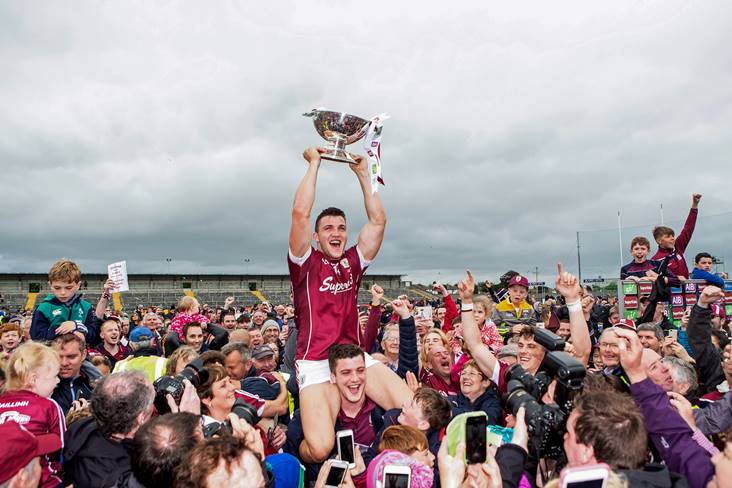 Galway's Damien Comer celebrates with the JJ Nestor Cup at Hyde Park
Fixture details for the 2019 Connacht senior, U20, junior and minor football championships have been released.
The race for the JJ Nestor Cup (Connacht SFC) is due to get underway on the first Sunday in May when New York host Mayo in the Bronx and London welcome holders Galway to Ruislip.
Meanwhile, the 2019 Connacht FBD League will commence on Sunday, 6 January with a new knock-out format in place for the pre-season competition.
2019 Connacht SFC
Sunday 5 May
Quarter-finals
New York v Mayo, Gaelic Park
London v Galway, Ruislip
Sunday 12 May
Quarter-final
Roscommon v Leitrim, Dr Hyde Park
Sunday 19 May
Semi-final
Sligo v London or Galway, Markievicz Park
Sunday 26 May
Semi-final
New York or Mayo v Roscommon or Leitrim, MacHale Park or Pairc Sean MacDiarmada
Sunday 16 June
Final
2019 Connacht U20FC
Wednesday 26 June
Preliminary round
Leitrim v Roscommon, Pairc Sean MacDiarmada
Wednesday 3 July
Semi-finals
Galway v Leitrim or Roscommon, Tuam Stadium or Dr Hyde Park
Mayo v Sligo, MacHale Park
Wednesday 10 July
Final
2019 Connacht JFC
Sunday 12 May
Preliminary round
Roscommon v Leitrim, Dr Hyde Park
Sunday 19 May
Semi-final
Sligo v Galway, Markievicz Park
Sunday 26 May
Semi-final
Mayo v Roscommon or Leitrim, MacHale Park or Pairc Sean MacDiarmada
Sunday 16 June
Final
2019 Connacht MFC
Friday 17 May
Round 1
Leitrim v Mayo
Roscommon v Galway
Sligo Bye
Friday 24 May
Round 2
Galway v Sligo
Mayo v Roscommon
Leitrim Bye
Friday 31 May
Round 3
Roscommon v Leitrim
Sligo v Mayo
Galway Bye
Friday 14 June
Round 4
Mayo v Galway
Leitrim v Sligo
Roscommon Bye
Friday 21 June
Round 5
Sligo v Roscommon
Galway v Leitrim
Mayo Bye
Wednesday 26 June
Semi-finals
Friday 5 July
Final
B final
2019 Connacht FBD League
Sunday 6 January
Round 1
Leitrim v Mayo, Pairc Sean MacDiarmada, 1.30pm
Sunday 13 January
Round 2
Galway v Leitrim or Mayo, Tuam Stadium
Roscommon v Sligo, Dr Hyde Park
Sunday 20 January
Final
Most Read Stories