We'll do London proud says Down All-Ireland winner
December 06, 2017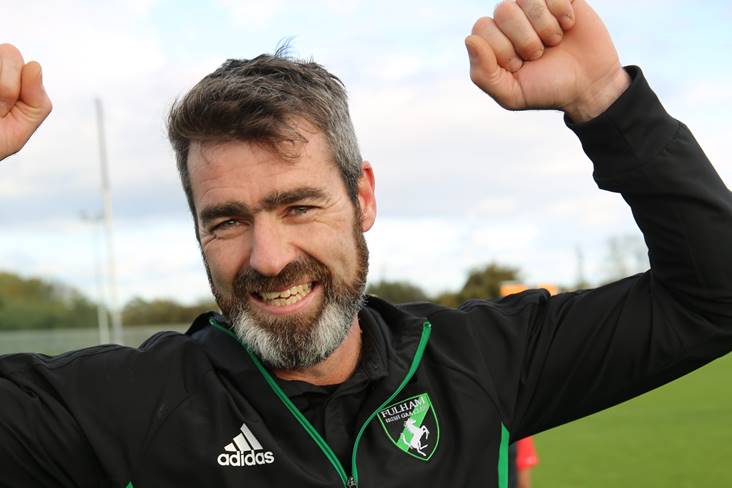 Fulham Irish manager Greg McCartan ©The Irish World
by Damian Dolan
Greg McCartan has vowed that his Fulham Irish charges will do London proud when they face Galway's Corofin at McGovern Park on Sunday in the All Ireland Club SFC quarter-final reports to the Irish World.
Corofin edged out Mayo's Castlebar Mitchels 2-13 to 1-12 after an extra-time thriller at Tuam Stadium to set up a trip to Ruislip, while Fulham Irish defeated Tir Chonaill Gaels in the London championship final.
Former Tyrone star Owen Mulligan kicked the winning point for Fulham in injury-time, as the club claimed its second London senior title.
"Next year London's champions will go into Connacht, so if we're the last London team in an All Ireland quarter-final then we're going to make sure we do London proud and give it our best shot," said McCartan, a two-time All Ireland winner with Down.
"It's up to us to us to give them a challenge. There's no point lying down just because it's Corofin. We're not going out just to fulfil a fixture, we've put a lot of effort in to this.
"We've had good numbers at training I'm sure the guys are looking forward to it. I'm certainly looking forward to it. It's going to be a big day at Ruislip."
McCartan, who is in his second year as Fulham manager, added: "I was expecting it to be Corofin, they've got that bit of experience and nous.
"I watched them play a few weeks back against St Brigid's and they're a top-class outfit, and obviously it's going to be a very big ask for us.
"But we can only control the controlables. Whatever they've done, they've done. At the end of the day we've got to get our own performance right. We've got to make sure we get our players set right and focused, and that we play the game and not the occasion."
The 2015 All Ireland champions are no strangers to Ruislip in the All Ireland Club Championship, having beaten Tir Chonaill Gaels by 0-9 to 0-2 as recent as 2014 (Gary Sice scoring 0-6 (4f), while they also overcame the Greenford side by 2-7 to 0-6 in January 2009. Two goals in the opening minutes from Greg Higgins and Aidan Donnellan set them on the road to victory that day.
Most Read Stories