HL top scorers: Forde hits 4-32 in knockout stages
April 11, 2018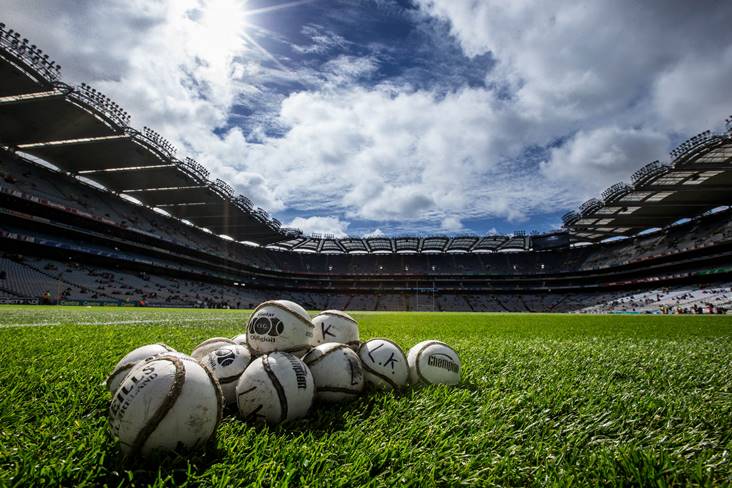 Jason Forde and TJ Reid finished the league campaign with a flourish.
©INPHO/Cathal Noonan.
Jason Forde is the Allianz Hurling League's top scorer for 2018 after weighing in with an eye-watering 7-72 from seven games.
The Tipperary full-forward blazed a trail in the knockout stages as he helped himself to a whopping 4-32 in three games (0-9 v Dublin, 2-11 v Limerick and 2-12 v Kilkenny).
TJ Reid was another in red-hot form as Kilkenny claimed their first league title in four years against the Premier County. The Ballyhale marksman finished up with 1-81, 0-42 of which came in his last three outings.
Tipperary's Jason Forde and TJ Reid of Kilkenny.
Limerick young gun Aaron Gillane is in third place on 6-58 while early pace-setter Ronan Crowley posted 4-63 for Lancashire in their historic league win.
New Louth star Niall Arthur, who is the league's joint-top goalscorer alongside Forde, with seven majors, comes next on 7-50.
Leader after the group stages, Damien Casey (Tyrone), Neil McManus (Antrim) and Ross King (Laois) complete the top eight in the overall charts.
Overall league top scorers:
Jason Forde, Tipperary 7-72 (93)
TJ Reid, Kilkenny 1-81 (84)
Aaron Gillane, Limerick 6-58 (76)
Ronan Crowley, Lancashire 4-63 (75)
Niall Arthur, Louth 7-50 (71)
Damien Casey, Tyrone 2-60 (66)
Neil McManus, Antrim 0-62 (62)
Ross King, Laois 0-59 (59)
Division 1A
Jason Forde, Tipperary 7-72 (93)
TJ Reid, Kilkenny 1-81 (84)
Peter Duggan, Clare 1-48 (51)
Patrick Horgan, Cork 2-41 (47)
Pauric Mahony, Waterford 0-34 (34)
Lee Chin, Wexford 0-30 (30)
Rory O'Connor, Wexford 0-29 (29)
Michael Breen, Tipperary 3-16 (25)
David Reidy, Clare 2-19 (25)
Division 1B
Aaron Gillane, Limerick 6-58 (76)
Neil McManus, Antrim 0-62 (62)
Ross King, Laois 0-59 (59)
Shane Dooley, Offaly 2-31 (37)
Donal Burke, Dublin 0-37 (37)
Jason Flynn, Galway 1-17 (20)
Cathal Mannion, Galway 1-17 (20)
Joe Bergin, Offaly 1-17 (20)
Division 2A
Jack Regan, Meath 2-47 (53)
Martin Kavanagh, Carlow 4-31 (43)
Allan Devine, Westmeath 1-38 (41)
Richard Murphy, London 0-39 (39)
James Burke, Kildare 0-28 (28)
Chris Nolan, Carlow 2-18 (24)
Shane Conway, Kerry 1-21 (24)
James Doyle, Carlow 3-9 (18)
Padraig Boyle, Kerry 1-15 (18)
Division 2B
Andy O'Brien, Wicklow 4-41 (53)
Paul Sheehan, Down 1-40 (43)
Alan Grant, Derry 1-34 (37)
Kenny Feeney, Mayo 1-34 (37)
David Carvill, Armagh 1-31 (34)
Lee Henderson, Donegal 0-34 (34)
Keith Higgins, Mayo 2-16 (22)
Connor McAnallen, Armagh 0-21 (21)
Shane Boland, Mayo 0-19 (19)
Division 3A
Niall Arthur, Louth 7-50 (71)
Damien Casey, Tyrone 2-60 (66)
Niall McKenna, Warwickshire 2-39 (45)
Fergal Rafter, Monaghan 0-45 (45)
Daniel Glynn, Roscommon 0-45 (45)
Cathal Mullane, Longford 1-21 (24)
Joe O'Brien, Longford 2-16 (22)
Ian Dwyer, Warwickshire 3-5 (14)
Division 3B
Ronan Crowley, Lancashire 4-63 (75)
Clement Cunniffe, Leitrim 5-34 (49)
Shea Curran, Fermanagh 0-21 (21)
Zak Moradi, Leitrim 3-10 (19)
Sean Keating, Cavan 1-14 (17)
John Duffy, Fermanagh 1-12 (15)
Ruairi Brennan, Sligo 0-13 (13)
Martin Hawley, Lancashire 4-2 (14)
Tony O'Kelly Lynch, Sligo 4-0 (12)
Kevin Gilmartin, Sligo 1-9 (12)
Goalscoring charts:
Jason Forde (Tipperary) 7
Niall Arthur (Louth) 7
Aaron Gillane (Limerick) 6
Clement Cunniffe (Leitrim) 5
Martin Kavanagh (Carlow) 4
Andy O'Brien (Wicklow) 4
Martin Hawley (Lancashire) 4
Ronan Crowley (Lancashire) 4
Tony O'Kelly Lynch (Sligo) 4
Walter Walsh (Kilkenny) 3
Michael Breen (Tipperary) 3
James Doyle (Carlow) 3
Niall Mitchell (Westmeath) 3
Declan Coulter (Donegal) 3
Danny Toner (Down) 3
Eoghan Sands (Down) 3
Patrick Walsh (Longford) 3
Ian Dwyer (Warwickshire) 3
Cormac Wall (Cavan) 3
Zak Moradi (Leitrim) 3
David Reidy (Clare) 2
Patrick Horgan (Cork) 2
Patrick Curran (Waterford) 2
Aidan Nolan (Wexford)
Conor McDonald (Wexford) 2
David Dunne (Wexford) 2
Nigel Elliott (Antrim) 2
Ronan Hayes (Dublin) 2
Conor Whelan (Galway) 2
Joseph Cooney (Galway) 2
Graeme Mulcahy (Limerick) 2
Patrick Purcell (Laois) 2
Shane Dooley (Offaly) 2
Chris Nolan (Carlow) 2
Jack Goulding (Kerry) 2
Jack Regan (Meath) 2
Eoin McGuinness (Armagh) 2
Meehaul McGrath (Derry) 2
Davin Flynn (Donegal) 2
Keith Higgins (Mayo) 2
Brian Morley (Mayo) 2
Anto Byrne (Wicklow) 2
Enda Donohoe (Wicklow) 2
Joe O'Brien (Longford) 2
Gerard Smyth (Louth) 2
Mark Treanor (Monaghan) 2
Eamon Flanagan (Roscommon) 2
Robbie Fallon (Roscommon) 2
Naos Connaughton (Roscommon) 2
Damien Casey (Tyrone) 2
Bryan McGurk (Tyrone) 2
Niall McKenna (Warwickshire) 2
Philip Brady (Cavan) 2
Highest individual scores from each round:
Round 1
Ronan Crowley (Lancashire v Fermanagh) 2-14 
Round 2
Neil McManus (Antrim v Dublin) 0-16
Round 3
Damien Casey (Tyrone v Monaghan) 2-11
Round 4
Niall Arthur (Louth v Longford) 4-12
Round 5
Clement Cunniffe (Leitrim v Cavan) 4-6
Most Read Stories