Eagerly-anticipated Ladies All-Ireland club finals take place this weekend
November 28, 2017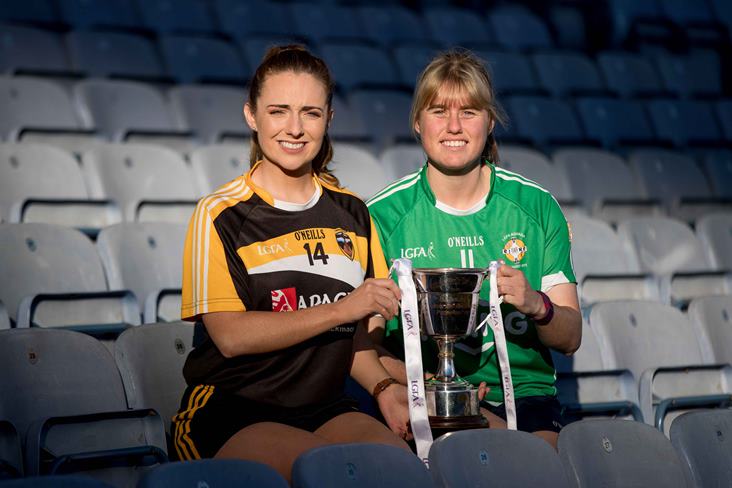 Laura McEnaney (Corduff) and Emma Farmer (Aghada) will vie for the All-Ireland club JFC title in Crettyard on Saturday
The team managers and captains from the All-Ireland junior, intermediate and senior club finalists gathered at Croke Park today (Tuesday) ahead of next weekend's eagerly-anticipated fixtures.  
Cork are represented in all three grades as Aghada will contest the junior decider on Saturday in Crettyard, before Kinsale and Mourneabbey line out at Parnell Park on Sunday in the intermediate and senior finals respectively.
Aghada and Monaghan opponents Corduff will battle it out for junior glory as the weekend gets underway, before Kinsale lock horns with Dunboyne of Meath at intermediate level, and Mourneabbey tackle Mayo's Carnacon in the senior showpiece.
Corduff were represented at Captains Day by manager Diarmuid O'Reilly and captain Laura McEnaney, with Ian Rose (manager) and Emma Farmer (captain) travelling from Aghada.
Manager Michael O'Connor and captain Aoife Keating were present for Kinsale, while Brendan Quinn and Annie Moffatt represented Dunboyne.
Shane Ronayne, who guided Tipperary to TG4 All-Ireland intermediate glory in September, will hope to mastermind another national win but this time at club level with Mourneabbey, who are captained by Bríd O'Sullivan.
Standing in their way are five-time senior club winners Carnacon, captained by 11-time TG4 All-Star Cora Staunton and joint-managed by Jimmy Corbett and Beatrice Casey.
Ladies Gaelic Football Association President Marie Hickey commented: "We look forward with anticipation to our All Ireland club championship finals this weekend.
"There have been great games to date in the provincial series and in the All Ireland semi-finals. All six teams have proven that they are worthy participants, with great talent and experience on display.
"I have no doubt that these games will be very close contests and will showcase the skills and dedication of the players, their management teams and the clubs and counties involved. 
"No doubt there will be great support from the local communities for the players and we look forward to seeing great crowds in Crettyard on Saturday and in Parnell Park on Sunday."
Fixture details:
Saturday, December 2nd:
All-Ireland junior club final: Aghada (Cork) v Corduff (Monaghan) - Crettyard, 2pm
Sunday, December 3rd:
All-Ireland intermediate club final: Dunboyne (Meath) v Kinsale (Cork) - Parnell Park, 1.45pm
All-Ireland senior club final: Carnacon (Mayo) v Mourneabbey (Cork) - Parnell Park, 3.45pm.
Most Read Stories