Ár gClub  - the new TG4 series featuring four very different GAA clubs starts Thursday
February 05, 2019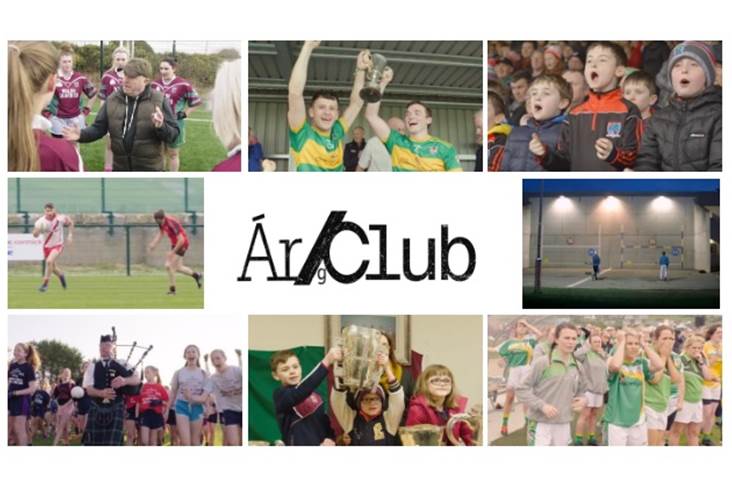 Ár gClub
A new seven-part TV series that gives a unique insight into the families and communities involved in four very different GAA clubs will air this Thursday night on TG4.
Ár gClub joins the communities and families of An Ghaeltacht (Kerry), Na Piarsaigh (Galway), Na Dúnaibh in (Donegal) and Kilmacud Crokes (Dublin) for the joys and the heartbreaks involved in supporting their home club.
With 2,500 clubs across Ireland, the GAA is the biggest, and perhaps the most important sports and cultural institution in the country.
Ár gClub will tell the stories of four very different GAA clubs as they compete, battle for honours, and strive to survive the 2018 season.
Speaking on the news series which airs tomorrow night at 8pm, Director Risteard O Domhnaill said he hoped that the show would capture "that deep personal connection of people with their club and their community".
"What I hope people will take from 'Ár gClub' is an appreciation of the sheer amount of work and commitment people put into their local clubs, many of which are just about surviving," Ó Domhnaill told hoganstand.com
"From the people who criss-cross the parish collecting for the club draw, to the coach who gives up his free evenings and Sundays, to the player working on the other side of the country who gets in his or her car on a Friday evening to make it home to put on the jersey, and play for the pride of the parish, the club is about more than sport, indeed it is far more important than that.
"Ár gClub' isn't about the teams winning trophies or the big day in Croke Park, 'Ár gClub' is about that deep personal connection of people with their club and their community, be they in Ros Muc, Dublin, London or Sydney, their club will always be their club.
"The club continues to be the reason for so many of them return home to 'their' people, and the feel of that damp sod upon which they learned to kick a football or rise a sliotar never leaves them and is constantly calling them home and back into their childhood.
"When parents drop their kids off to training on a rainy Tuesday evening they probably don't realise the special connection that their children are forming with their community, their culture and their
home place that will stay with them for a lifetime."
Episode 1 takes us back to January 2018 and the show follows the supporters of Cumann Caide na Gaeltachta to their All Ireland semi-final match against Moy Tír na nÓg from Tyrone, both clubs battling for a place in the final and to play in Croke Park.
Back in Connemara the Liam McCarthy Cup arrives at Na Piarsaigh clubhouse as the under 8 team begin their first training session of the season.
At CLG Na Dúnaibh preparations begin on and off the field as they will host the Comórtas Peile na Gaeltachta finals in June.
In Dublin a lack of playing pitches is proving to be a real problem for the Kilmacud Crokes GAA club.
Be sure to tune into the new series which starts at 8pm on Thursday, February 7 on TG4.
Most Read Stories