'Never quit - play as long as you can'
March 02, 2019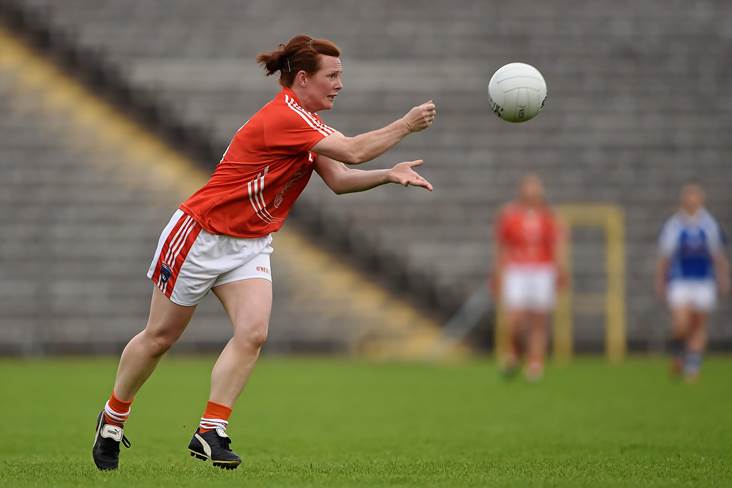 Armagh captain Caoimhe Morgan
by Declan Rooney
Life as an injured sports star can be a lonely one. Professional players often speak about the vacuum left in their lives if they are sidelined for months on end, but for Armagh senior football team captain Caoimhe Morgan, there hasn't been a spare second to become overwhelmed by the road to fitness.
Morgan (35) is a PE teacher at St Catherine's College in Armagh, and as well as fighting her way back from a serious knee injury, her children – six-year-old Kayla and Darragh, who'll be three next week – keep her on her toes. It's fair to say her hands are full.
But six months on from surgery to repair her torn cruciate ligament, the former All Star defender is on the home straight. According to Morgan, completing all of her recovery and rehab at the heart of the Armagh squad is the main reason for her positive outlook during the laborious process.
"It'll be six months since my surgery at the end of this week. I'm back doing the warm-ups and ball drills with the squad," said Morgan.
"My sister Catherine is also on the panel and she's a physio. She's rehabbing me and it's great to be able to turn to her in training and ask 'can I do this'.
"My other sister Niamh, she's had two cruciate injuries as well. We're all able to help each other.
"At training the girls are there for me when it's getting it tough. They shout over to me to keep it going, or 'you're doing really well'. That really spurs me on and I feel a real part of the squad rather than doing it on my own."
As well as all the moral support, Morgan has been assisted practically too. Her employers have been very understanding, and even though she'll miss all of Armagh's Lidl national league, joint managers Fionnuala McAtamney and Lorraine McCaffrey named her squad captain, such is her influence on the group.
"The captaincy was a real honour. For them to include me in that role, especially when I'm injured, has been a real boost.
"Thank God I've never really had a bad injury in my playing career, but I'm 35 now, and I'm really grateful for all I've had.
"I'm a PE teacher so I have to get this right, I have to fix it. Hopefully I get back playing and it'll be a bonus, but I'm not putting myself under loads of pressure about it.
"I've had huge help from work too. My principal, Noeleen Tiffany, has been amazing. She gave me great backing and time off until Halloween. It meant my rehab got off to a great start. It was really appreciated."
Morgan is in her 19th year as an inter-county footballer – the same as men's record holder Stephen Cluxton – but she balks at the thought of ending her career at this stage.
The dream for 2019 is to see Armagh gain promotion to Division 1, after which she'll return to fitness in time for the championship and finish the season with a surge of form. It's not time to press stop and eject just yet, she says.
"I want to come back and be good; I don't just want to be there as a bit part. Thanks God in my lifetime playing football I don't know what it's like to be on the fringes.
"A couple of years ago I said I wasn't coming back because I thought my time was done and I thought I couldn't compete at the top level, but it's your life. I've played for 19 years for Armagh. When it's not there it's strange.
"My daddy, Noel Marley, he played for Armagh for 15 years. He always said: 'never quit, play as long as you can'.
"We'll see how it goes with the injury but if my body will let me I'll play on."
So far this season Armagh are unbeaten in Division 2 and a win in today's Lidl NFL clash at Healy Park would be a key result in their promotion chase. The game is part one of an attractive double header at the venue, with Mickey Harte's Tyrone facing Cavan later in the evening. Morgan wants to see her teammates continue to play with freedom.
"It's all going good. I think it comes from having Lorraine and Fionnuala in their second year. The continuity in the panel is great and the confidence to try things is there now.
"It's great to have the double header to look forward to. I think people are starting to see ladies football as a great game, with good free flowing play. People are getting the opportunity to watch it and I think they are enjoying what they're seeing.
"A win would be huge, but we're not underestimating Tyrone. They have put in great work and are playing quite well. It'll be a really tough one and they'll want to impress in Omagh.
"We just want to continue on with that we're working on and try to keep the wins coming, because winning breeds winning."
Armagh play Tyrone at Healy Park in Omagh in Division 2 of the Lidl Ladies National Football League on Saturday evening. The game will be LIVE on the LGFA's Facebook Page: https://www.facebook.com/LadiesGaelicFootball/
Coverage begins at 4.45pm, the game gets underway at 5pm, and commentary is from Jerome Quinn and former Tyrone player Eilish Gormley.
Most Read Stories